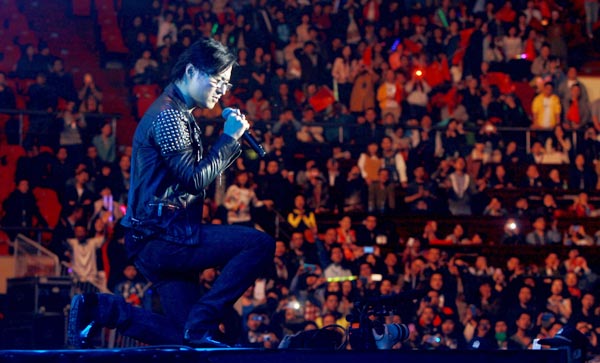 Chinese rock singer-songwriter Wang Feng holds a concert in Tianjin in April. Wang's Beijing concert in July was streamed online. [Photo/Xinhua]
Chinese music lovers are shifting from buying physical records to watching live music shows, a new report indicates.
The First China Music Industry Forum, which was jointly organized by the State Administration of Press, Publication, Radio, Film and Television, the Communication University of China and the Music Industry Promotion Committee, reported on Nov 6 in Beijing that the total size of China's music performance market reached 14 billion yuan ($2.28 billion) in 2013, while the total size of physical record industry was 650 million yuan.
The report also says that the total size of China's music industry in 2013 exceeded 270 billion yuan, making it bigger than the film industry valued at 20 billion yuan and the TV series industry, which was 10.8 billion yuan.
"An increasing number of people in China, especially the young generation, are embracing live music as an important medium of entertainment," says Zhao Zhi'an, the deputy director of School of Music and Recording Arts at CUC.
"For example, over 200 outdoor music festivals are expected to be held in 2015. It's a good time for both artists and fans."
Zhang Youdai, a veteran DJ and a seasoned concertgoer who is credited with introducing many Western and Chinese rock musicians to Chinese fans, says his first live concert experience was in 1987.
Then he was a student of Central Academy of Drama. He bought three tickets to see the Chinese godfather of rock 'n' roll, Cui Jian, for 5 yuan each and went to the concert with two of his classmates.
"Few people went to live shows back then but it was the golden era, from 1987 to 1997, that gave birth to a number of great indie musicians who are the backbone of today's live music scene," says Zhang, who discussed China's rock music scene at the forum.