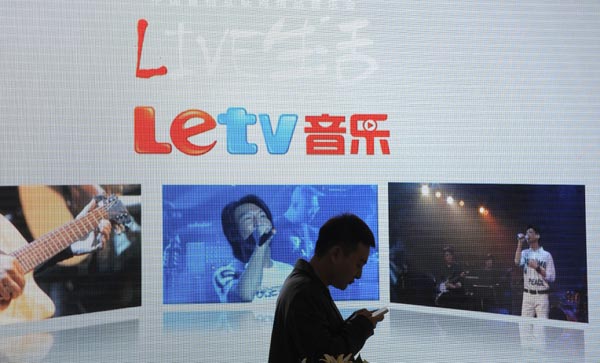 LeTV.com, a Chinese video-and movie-streaming site, has begun streaming live concerts of the country's musicians. Photo provided to China Daily
In October, the 23-year-old singer announced her plan to be the first Chinese female pop singer to visit outer space, and she has taken a space-training course in Amsterdam.
"The music industry should be integrated with other industries to offer many more commercial possibilities," says Yin.
However, he is concerned about the quality and content of music since more and more singers in China, especially in the pop music world, are performing at commercial concerts but creating fewer "good works".
"I believe that good and creative content is the key to making profits, which, unfortunately, has been ignored by some artists and record companies," he says.
Liu Yuxing, the general manager of China Mobile Music Base, says that since the facility was founded in 2006, it has made immediate profits thanks to the fast development of the Internet in China.
Inspired by the popular singing reality shows in China, Liu says that the company launched a platform early this year for original Chinese singer-songwriters.
"So far, we have more than 5,000 singer-songwriters who've signed contracts with us. We will help inject new blood into the music industry," Liu says.
Guo Biao, the chief representative of the International Federation of the Phonographic Industry in China, agrees that the Internet presents a tremendous opportunity for artists and music labels.
But copyright piracy is still a challenge, he says, since there is no official standard of paying for music copyrights in China.
In 2013, for the first time, China's music copyrights revenue exceeded 100 million yuan, according to the nonprofit Music Copyright Society of China, which shows the success of converting consumers from free downloads to a paid model.
"Besides the legal music awareness of consumers, the government should pave way for legislation, regulating the legal use of music, such as at karaoke bars and in public places," Guo says.
Related:
Little Apple wins American music award