Funky, Italian deli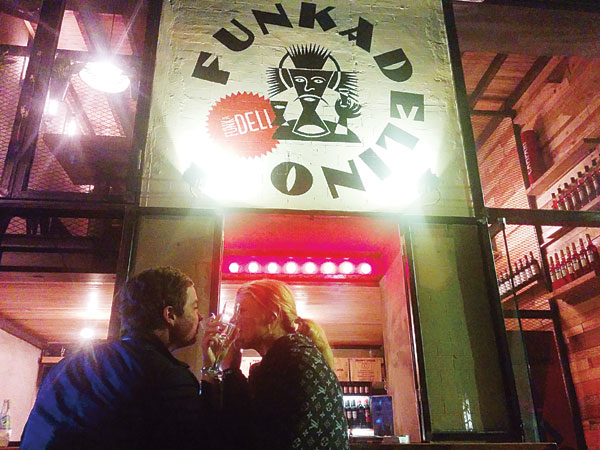 Branching out: The owners of Funkadeli recently opened a second venue offering more gourmet food. [Photo by Matt Hodges/Shanghai Star] 
Some Italians are bringing the country's'Campari lifestyle' to Shanghai while also building a growing brand. Matt Hodges stops in for a drink at Funkadeli to hear more.
Fabio Jesus Testi – or just Fabs to his friends, of which there are quite a few — is flicking through his iPhone and reeling off a directory of business strategy "bibles": Porter's five forces analysis, Maslow's hierarchy of needs, McCarthy's four P's, a.k.a. the marketing mix, a.k.a. the seven P's, later subsumed by Lauterborn's four C's.
"It's good to have those in the back of your mind, but as an entrepreneur in Shanghai, I learnt most things along the way," says Testi, the 33-year-old co-owner of Funkadeli, a haven for Italian and other European expats on the east end of Yongkang Road.
Armed with a degree in international business from Bristol University, England, he moved to Shanghai in 2004. He spent a while trading solar panels out of Hong Kong, but business went belly up after Europe introduced a hefty import tax on them in 2012.
"I knew it was time to get out and try something else," he says, hence the move into hospitality last year. About eight weeks ago, Funkadeli opened a second venue on Xikang Road in Jing'an district. The group branded it as Funkadelino ("small Funkadeli") and remodeled it using vintage Campari posters and other artwork by futurist painter Fortunato Depero, Italy's most celebrated advertiser, to keep the brand consistent.
The new property offers a wider selection of food in more of a gourmet style. It is a charming hole-in-the-wall serving up pastas, spicy meatballs, paninis, a "very hoppy" Punk IPA and bitter Italian aperitifs.
"We wanted to introduce the Campari lifestyle, which is about meeting up with your friends after work and enjoying good Italian food and drinks," says Enrico Farinati, one of Testi's closest friends and business partners.