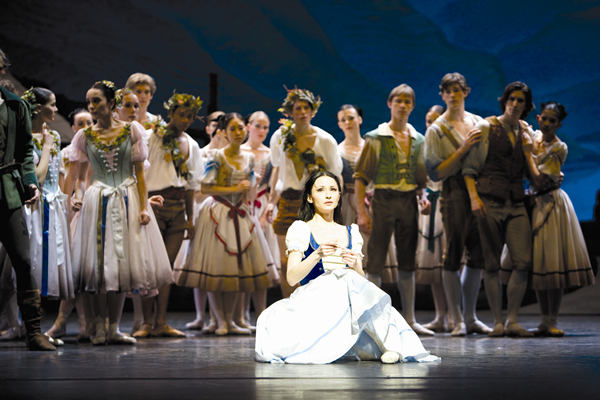 Wu Promotion will tour several Western art performances in China in 2014, including Giselle by the Dutch National Ballet (above and below right). Provided to China Daily
Performing arts centers are springing up all over China, but audience demand for quality means a greater investment into the cash-strapped industry is desperately needed, reports Zhang Kun in Shanghai.
Big investment is pouring into live show productions, and new theaters have sprouted like mushrooms in the second-and third-tier cities of China. As the theater world takes its "great leap forward", quality has become the winning ticket.
Wu Promotion, one of China's first private performing arts promoters and event organizers operating since 1991, has found that more venues with state-of-the-art theaters are being built in China's second-and third-tier cities. And the public has become more appreciative, raising their demand for quality, according to Zenaida des Aubris, director of International Relations for Wu Promotion Co. Ltd.
China now has an unparalleled collection of imposing performing arts structures, starting with the famous "egg" housing the National Center for the Performing Arts in Beijing.
"It seems that every city now has a performing arts center designed by a famous architect. These cities also are starting to have the potential clientele in terms of interested audiences," Wu Jiatong, president of Wu Promotion, told China Daily.
"When Wu Promotion started more than 20 years ago, we had two to three tours a year, mostly to Beijing. Now we have about 40 tours per year and about 400 to 500 performances all over China," he says.
"The interest in Western classical music has grown exponentially over the past 30 years."
As with everywhere else in the world, quality always sells. And that is what the public wants - good quality shows, good quality interpreters. That works both ways: from China to the world and from the world to China, says Wu.