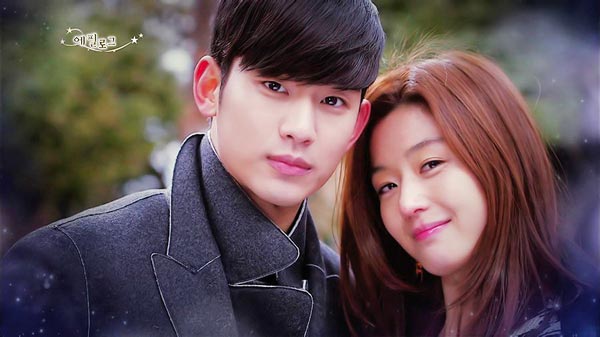 Still photo from "My Love from the Star".[Photo/icpress]
Controversial finale of "My Love from the Stars" sparks debate, but there is no arguing the milestone 1 billion hits as Chinese viewers tuned in to the season on video-sharing sites.
Like all star-crossed love affairs, the red-hot relationship between a South Korean melodrama and its frenzied Chinese fans could only last so long, and would inevitably leave one side with a broken heart.
So it was on Thursday that "My Love from the Star," about the romance between a 400-year-old spaceman and a famous Korean actress, aired its last episode, unveiling a happy, yet unresolved, finale that has left fans in China screaming for more.
The show's popularity had already proved out of this world. By Feb 13, the number of viewers for the Internet program had surpassed the milestone 1 billion mark, according to data released by domestic video sites PPS, Letv, iqiyi and Xunlei.
The internet traffic was so intense at certain times that several video-sharing sites were paralyzed by the tsunami of hits. As of Friday morning, the number of blog posts about the program on Sina Weibo, China's social media juggernaut, had reached 30,805,009.
The show's impact was felt outside the cyber realm as well. The heroine's favorite heartbreak snack, fried chicken and beer, became an overnight sensation with like-minded fans, and fashion magazines devoted countless pages to the characters' wardrobes and attitudes.
Even before the release of the last episode, the Internet was abuzz with predictions and dismay. Some fans expressed relief that the heart-tugging drama was coming to an end, but this Sina Weibo user wrote emotionally, "We don't know when we shall part, so we cherish every moment we are together. We don't know when we shall meet again, so we have hope every day."