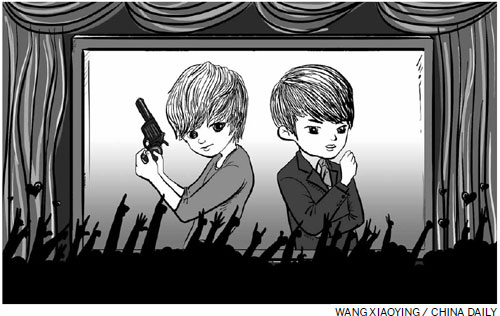 A Korean wave is sweeping across China, with many Chinese women worshipping South Korean actors Kim Soo-hyun and Lee Min-ho as demigods. Chinese netizens have always been divided over South Korean TV dramas, but there is no doubt that programs from the neighboring country are now enjoying a new round of popularity in China. And a big part of the credit for that goes to You Who Came From The Star, the South Korean TV series which is on the air now.
Top South Korean actors Jun Ji-hyun and Kim Soo-hyun recently earned a popularity rating of 24.8 percent in their country, considered strong by Nielsen Korea. You Who Came From The Star and The Heirs have been subjects of hot online discussions throughout Asia. Besides, the book, The Miraculous Journey of Edward Tulane, read by the hero in You Who Came From The Star was a hard-to-get item on Amazon for a while.
The two TV programs have several common elements: a tall, handsome, and rich hero who loves the heroine blindly and always protects her, and an equally handsome man madly in love with the same woman. Both programs portray the purity of love, which is expressed through a kiss or a warm hug. Perhaps that's the secret of their success; perhaps people are still fascinated by Cinderella-type stories.
The widening wealth gap is a matter of social concern both in South Korea and China, and the challenges that young people face in their quest for a better life might have prompted many ordinary girls to dream of marrying rich, caring men. This is precisely what the popular South Korean TV dramas portray. In fact, South Korean TV dramas are tailored to meet the market's demands.
In contrast, Chinese TV screens are flooded by knock-off and/or poorly made soap operas. Most of the Chinese TV dramas either distort the War of Resistance against Japanese Aggression, which is a distortion of history, or blindly copy foreign programs. The lack of good stories has of late resulted in loads of TV series on time travel or fights in the harems of Qing Dynasty (1644-1911) emperors. These, in short, are the bane of Chinese TV productions.
In contrast, South Korean TV dramas have re-invented themselves. In fact, 2013 could be said to be the year of rebirth of South Korean TV dramas. Shortly after the enormous craze generated by Great Jang-Geum in 2003, South Korean dramas lost much of their popularity in other Asian countries thanks partly to better produced works from the United States and the United Kingdom.