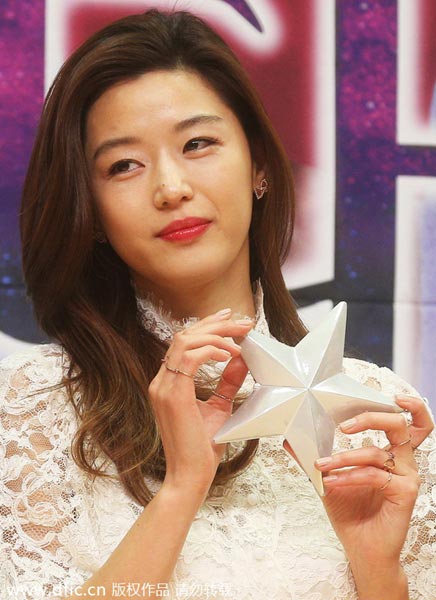 Korean star Jun Ji-hyun plays heroine Cheon Song-yi in "My Love from the Star".[Photo/icpress]
A South Korean soap opera about a 400-year-old space alien has set off a computer and culinary craze in China, and celebrities and millions of internet users are pounding the table for more.
The show "My Love from the Star" has been wildly popular since it debuted online in December last year, drawing staggering numbers of viewers and social media participants. The first video website to stream the show, iQIYI, has reported received 353 million hits.
The imported program, which by Feb 14 had 14.1 million comments on Sina Weibo and held a top spot search engine Baidu, has been credited with influencing culture and inspiring romantic notions of perfect love.
Now, the show is making stomachs growl and snow fall on computer screens, all due to the heroine's famous penchant for roast chicken and beer.
"My Love from the Star" tells a story about Do Min-joon, an extra-terrestrial who arrives during South Korea's Joseon Dynasty and sticks around for the next four centuries.
Min-joon, played by actor Kim Soo-hyun, must change his identity every decade or so because his near-perfect human appearance never ages. In the current season, he is a college professor who falls in love with an actress Cheon Song-yi played by Korean star Jun Ji-hyun.
The love-struck couple is forced to navigate the challenges of inter-planetary relationships and innumerable real-life dangers. This is where the poultry and alcohol come in.
Throughout the series, when the heroine is in a bad mood or it snows outside, she invariably eats roast chicken and drinks beer – a habit that has struck a chord with the viewing public.