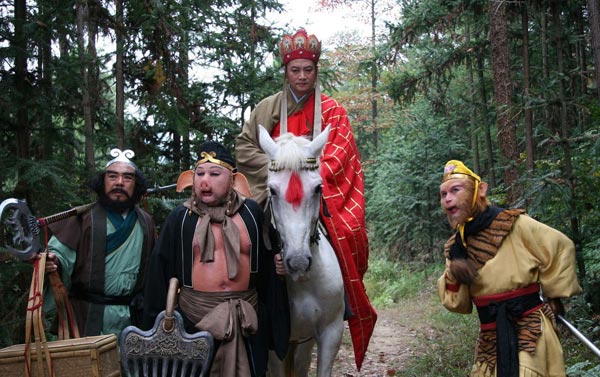 1986 television series Journey to the West, has aired in China for more than 3,000 times. [Photo/Agencies]
Chinese actor Zhang Jinlai, better known by his stage name, Liu Xiao Ling Tong, and his portrayal of the Monkey King in the 1986 television series Journey to the West, is heading a campaign to get the show into the Guinness World Record for the most broadcast and highest rated television series.
The 55-year-old actor, son of a family who have played the Monkey King for four generations, says the series has been aired in China more than 3,000 times since it was first broadcast.
The 41-episode show has been repeatedly remade over the course of nearly two decades. Its most recent version aired in 1999, but it is widely agreed in China that none of the remakes have surpassed the original.
Zhang's latest work, Wu Cheng'en and the Journey to the West, tells the story of Wu, the author of the classic Chinese tale, and the story itself.
"I am playing Wu Cheng'en and the Monkey King at the same time. The script is about the legendary story between the author and his work," said Zhang.
It is not a surprise that he is also applying for a Guinness Record for "an actor who plays both the author and the protagonist of a worldly known classic literature", and also the "person with the most collectables about the Journey to the West".
A 3D version of Journey to the West will also begin filming at the end of this year.
"This is a collaboration with the US, and the film is scheduled to air in 2016. Talks on a Disney-like theme park on Journey to the West are also underway. All of my dreams have come true," Zhang said.