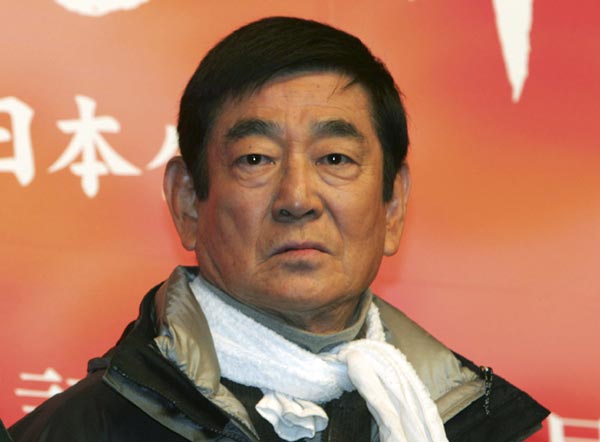 Japanese actor Ken Takakura was well known in China. Photo provided to China Daily
Ken Takakura, whose death on Nov 10 was announced on Tuesday, was a Japanese movie star who essentially reshaped the aesthetics of screen heroes when his movies made their way into the Chinese market in the late 1970s and early 1980s.
Takakura died at a Tokyo hospital where he was being treated for an illness, according to his office.
His tough-guy persona-always brooding and speaking little dialogue-injected a big dose of masculinity into the creation of movie heroes and became an antithesis to the all-smiling archetype then prevalent in Chinese cinema. Several Chinese leading men, including Tang Guoqiang, even fell out of public favor partly because they were seen as the opposite of Takakura-style cool.
The first Takakura vehicle to hit Chinese theaters was Manhunt, made in 1976 and screened in China in 1978, in which he plays a police detective falsely accused of corruption who goes on the run to clear his name.
To an audience that had never seen a story like this, Takakura's portrayal was the epitome of stoicism and perseverance.
A much more nuanced follow-up was the 1980 film A Distant Cry From Spring, in which a man with a past starts developing mutual feelings for the woman who keeps him as a hired hand.
Chinese filmmaker Zhang Yimou explored Takakura's signature reticence and pensiveness to dramatic effect when he invited him to star in the 2005 film Riding Alone for Thousands of Miles, a film about the difficulty of communication between people with different languages, cultures, generations and backgrounds.
According to Zhang, the role of a Japanese father who comes to China in search of a way to bond with his son was tailor-made for Takakura.
In the West, Takakura is known mostly through the 1970 war movie Too Late the Hero, the 1974 Sydney Pollack sleeper hit The Yakuza with Robert Mitchum, the 1989 Ridley Scott film Black Rain, which partnered him with Michael Douglas, and the 1992 comedy Mr. Baseball with Tom Selleck.
Takakura was extremely prolific, with more than 200 screen roles under his belt. He was awarded Japan's Academy Prize for best actor four times, among other kudos.
Related:
Ken Takakura's movies that Chinese netizens love
Chinese fans mourn Takakura's death