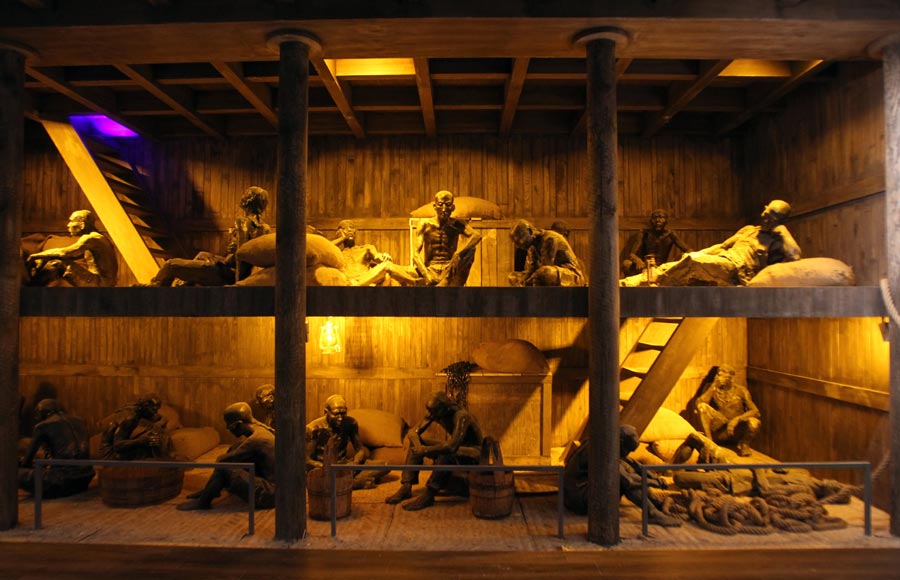 The Overseas Chinese Museum of China is home to around 15,000 artifacts that record the migrations of overseas Chinese. Zou Hong / China Daily
A museum relates tales of Chinese emigrants, China Daily reports.
A plain gray building situated on the edge of a hutong, or alley, in downtown Beijing barely registers in the eyes of passersby. Inside, however, its contents represent hundreds of years of the history of Chinese voyagers as they established their homes overseas.
The Overseas Chinese Museum of China, the country's first State-level museum to offer a panoramic introduction to overseas Chinese communities, quietly opened in late October without much ceremony. Despite the lack of fuss, the museum has much to tell of overseas Chinese communities, and the blood, sweat and tears of early emigrants.
The institution is home to around 15,000 artifacts that record the migrations of overseas Chinese. Almost all were donated by Chinese living abroad, and more exhibits are constantly being added. Director Huang Jikai says: "As long as it (the artifact) is able to depict a period of history, tell a story or reflect a situation, we will accept it."
Though there are no official statistics, it is estimated that there are more than 30 million people of Chinese ethnicity living overseas. Early emigrants dated back to the Ming Dynasty (1368-1644), and the late 19th century witnessed a surge of Chinese people moving overseas.
During the gold rush of 1848 in San Francisco, many Chinese went to the United States to seek their fortunes and a large number settled there permanently. The "coolie" trade in the late 19th century saw Chinese from Fujian and Guangdong provinces going to the US.
There are four halls in the museum, covering a long timeline and a wide range of collections. Sculptures depicting Chinese laborers' traumatic voyages across the Pacific Ocean, for example, are a vivid reflection of the difficulties experienced by early emigrants. A miniature model of an overseas Chinese community in the 19th century portrays the daily lives, customs and religious beliefs of the people at that time.
One highlight of the museum is the large number of artifacts that show the patriotic support of overseas Chinese for their motherland in the fight against Japanese aggression during the World War II.
A plan to build a national museum of overseas Chinese was first proposed as early as 1960 by Tan Kah Kee, a renowned overseas Chinese community leader. However, Tan died just a year later, and unstable political circumstances following his death made the realization of his dream difficult. The project was put on hold until 2005, when it was finally approved.