Restaurant awakens your senses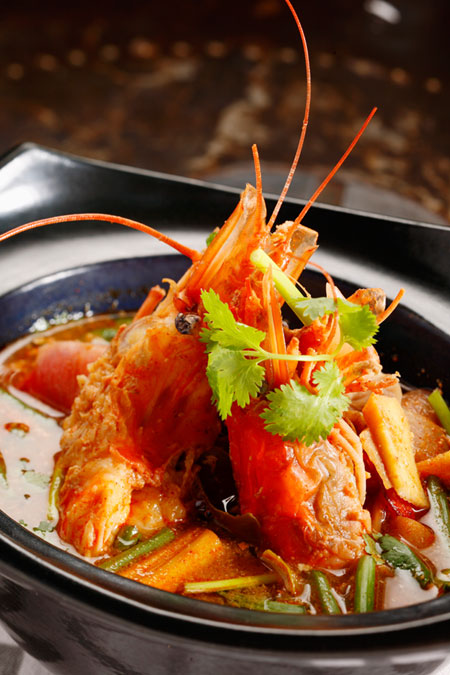 Tom Yam Goong [Photo provided to chinadaily.com.cn]
Having dinner at Black Ginger is like an adventure – one surprise follows another. The whole experience from the entrance to the fine-dining restaurant until the end of the meal tantalizes all our five senses.
The pathway leading to the restaurant is lighted with deep blue light on both sides, emitting a sense of mystery. As we walk, the restaurant comes to view like a magical illusion in a fantasy movie – with perfect lighting effect to appreciate the elegant venue that we will soon be filling our stomach but leaving enough room for imagination.
Floating on a lagoon, Black Ginger is without a doubt, the jewel in Indigo Pearl's crown. Built like an ancient Thai house, patrons are ferried on a boat, supported by a huge robe, pulled by a man from the resort to the floating, hypnotic diner against the backdrop of tropical forest.
The restaurant serves a fusion of authentic and rare flavors of Thai and Phuket specialties to entice the palette of guests. The luxury interiors combine contemporary design with old world charm.
On some days, Thai cuisine is displayed in several locations al fresco style, each station with an individual chef to recommend and cook their own delicacies. We order four appetizers, which we later found out is a bit too much, but we wanted to sample more varieties.
They include Thai classic Som Tam Malagor Sai Mamuang (green papaya with mango salad), Phuket specialty Thod Mun Pla (fish cakes), Poo Ja (crab meat in its own shell) and Kratong Thong (no English translation).
The Som Tam (THB270) is wonderfully marinated and we can taste the explosion of flavors in each thinly shredded green papaya and mango. It is a refreshing combination of sweet, sour, spicy, and salty taste.