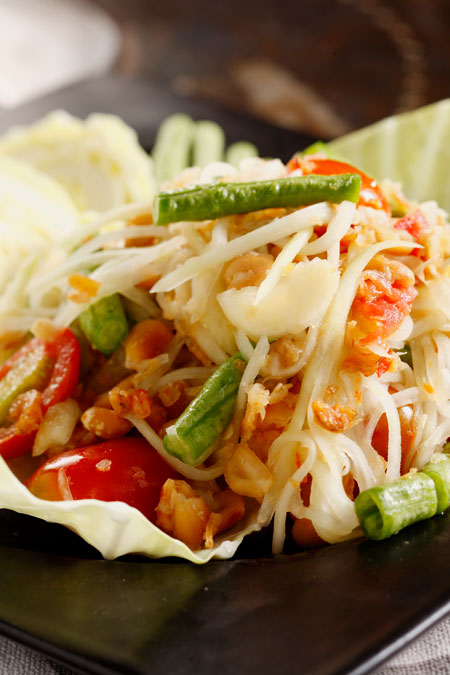 Som Tam [Photo provided to chinadaily.com.cn]
The tiny dried shrimps and fresh crunchy roasted peanut make it even more appetizing. Phuket fish cakes (THB380) are made up of finely chopped fish enlivened with flavors of red curry and fragrant Thai spices, served with the restaurant's signature sweet chili sauce.
The texture is just right – not too hard or soft and yet a little bouncy, and the spices blend really well together to remove the fishy taste. A dip into the sweet chili sauce enhanced the overall taste but I prefer mine original so that I could savor the mixed spices.
Poo Ja (THB275) is unique and we are happy we include the dish. It is fresh tender crab rich with roe mixed with chili sauce, dipped in egg and baked. We could smell the fragrance of the crabs the minute the dish is served.
It is a dish we definitely recommend to order especially if you are dining with a date or guests because you get to enjoy fresh succulent crab without having to dirty your hands wrestling with the crustacean's shell, claws and legs.
Kratong Thong (THB290) is a diced chicken dish incorporated with wild Thai spices and sweet corn, served in golden mini baskets. The diced chicken reminds me of popular Thai stir-fried chicken with basil leaves, while the crispy golden mini baskets remind me of kueh pai tee, a Peranakan favorite in Malaysia and Singapore.
Perhaps, they share the same origins since Phuket is also rich in Peranakan heritage. Because of its bite-sized presentation, one potion only teases our taste buds and leave us wanting more.
On its own, the fragrantly stir-fried chicken would be too salty but the mini baskets neutralize the taste. It is lip-smackingly good. And what's Thai cuisine without Tom Yam soup?