Topshop a hit with online fashionistas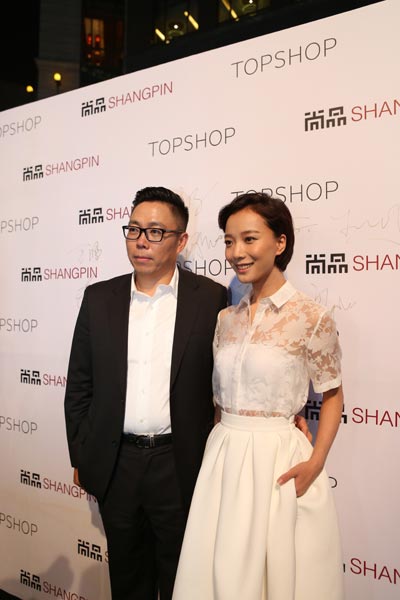 Zhao Shicheng, CEO of Shangpin (left), poses for a photo with Chinese actress Wang Luodan at a promotional event for Topshop in Beijing in September. [Photo/Agencies]
It was Nov 11, Singles' Day in China, and its busiest online shopping day. Chen Jing, a 30-year-old accountant in East China's Jiangsu province, bought a 299 yuan ($49) black dress and a 520 yuan gray coat. In Beijing, journalist Cui Bowan picked a 139 yuan T-shirt and a leather jacket for 1,539 yuan. Both ordered the apparel of Topshop, a British fast-fashion brand, on the cellphone app for China's online retailer, Shangpin.
Shangpin, in fact, sold 10,495 of Topshop products on Nov 11. David Zhao Shicheng, CEO of Shangpin, says that Topshop has become the most popular brand on his site since it started carrying the fashion brand in late September.
Young Chinese consumers of high street fashion have waited for Topshop for a long time. Last year, Topshop opened its first flagship store in Hong Kong and two more stores there early this year. It finally tapped into the Chinese mainland at the end of this summer, not through a physical store but on Shangpin.com.
"Shangpin offers a great mix of designer brands at full price. With this they are also very innovative with their marketing and online content and offer an exceptional shopping experience," Mary Homer, Topshop's managing director, tells China Daily in an e-mail.
"Chinese consumers are very fashion savvy, looking for first-to-market pieces," she says. "They are also extremely digitally aware and have access to all of the exciting trends and brands that are global."