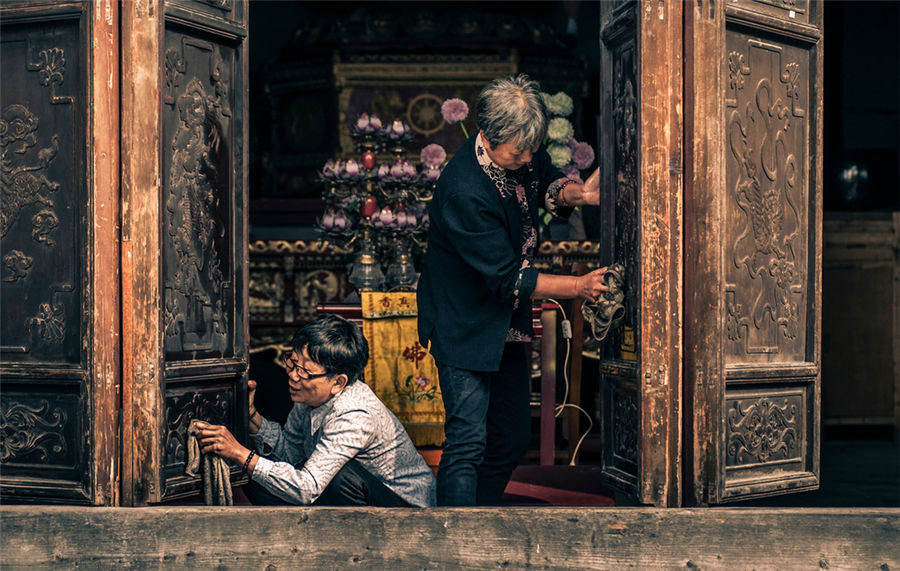 Villagers help clean the wooden gate of the main hall in Longsan Temple to prepare for the upcoming celebration of the birthday of Medicine Buddha in Longsan Temple, Ningbo in Zhejiang province, Oct 21, 2014. [Photo by Liu Zhihong/provided to chinadaily.com.cn]
The ceremony was scheduled to be held on Oct 23 in the temple, which is located in Longsan village, Gulin town, Yingzhou district, Ningbo city of Zhejiang province.
The ancient temple, originally named Fajiu Temple, was destroyed during the cultural revolution, and was relocated and rebuilt in 1994. Now the temple only has five resident monks, including the abbot.
The former Fajiu Temple, with a history of more than 1,000 years, was said to be quite prosperous. It housed vivid and lifelike Bodhisattvas and attracted disciples across the whole country.
In 2008, when the Buddhist master Shengchan, who graduated from Putuo Buddhist College, heard the story of the temple, he applied to be the abbot and hoped to revitalize the ancient temple. The abbot is said to be a talented person, an intellectual with multiple talents in music, painting and calligraphy.
Photos courtesy of the photographer Liu Zhihong