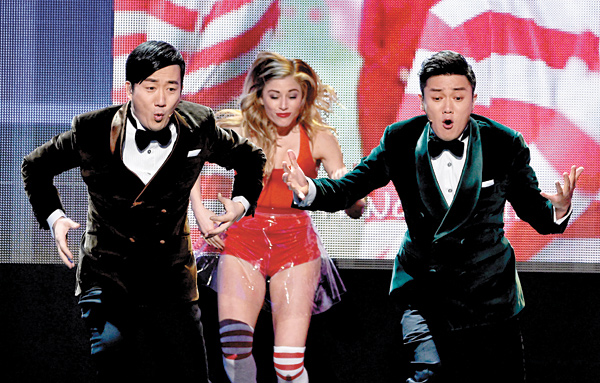 Recording artists Wang Taili (left) and Xiao Yang of the Chopsticks Brothers perform at the 2014 American Music Awards at the Nokia Theater Los Angeles, on Sunday. The pop duo's Little Apple won the International Song Award at the gala. KEVIN WINTER / GETTY IMAGES /AFP
China's Internet pop sensation the Chopsticks Brothers, whose viral hit Little Apple has been viewed more than 1 billion times on China's popular video websites, won the International Song Award at the 2014 American Music Awards on Sunday.
The pop duo, singers Xiao Yang and Wang Taili, also performed the song at the gala. Chinese singer Zhang Jie shared the stage and won the International Artist Award.
"This is the first time that a Chinese pop duo performed at and won an award at an established international music award ceremony. Little Apple is China's Gangnam Style and we will bring it to more international stages,"said Lu Fanxi, deputy director of Youku Tudou.
According to Lu, South Korean girl group Tara has collaborated with Chopsticks Brothers for a remake of the popular song. The song also enabled Chopsticks Brothers to become the first Chinese pop group to release their song on iTunes.
Lu said that a movie titled Little Apple has been planned for next year.