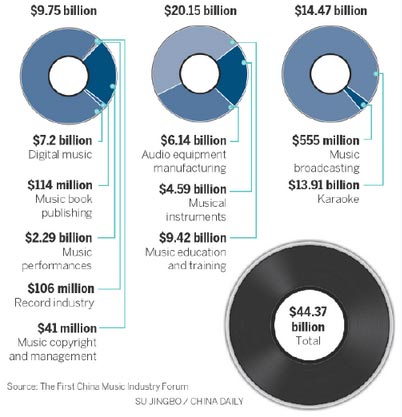 Su Jingbo / China Daily. China's Music Industry (2013)
Gao Hu came to Beijing from Shandong province and formed the rock band Miserable Faith with his friends in 1999. They rented a small house at around 175 yuan a month and could barely make ends meet because they had few opportunities to perform, he says. But now, they perform around the country every month.
"As an indie rock band, we not only can survive by playing our music but also have extra money to buy better equipment and instruments," he says.
As the first annual official music industry report in China-which contains 13 branch reports covering the physical record industry, digital music industry, music performance industry and music copyrights-the report also declares other boosts for the music industry include charging for digital music and the new business model of collaboration between music labels and video websites.
According to the report, the total size of China's digital music industry in 2013 was more than 44 billion yuan. It was around 39 billion yuan the year before. There were more than 450 million digital-music users in China in 2013.
In July 2014, Chinese video and movie streaming site LeTV.com cut an exclusive deal to stream the concert of Chinese rock singer-song writer Wang Feng on Aug 2 at the National Stadium in Beijing. More than 75,000 users watched the concert online within two days, with each user paying 30 yuan. It was considered to be a groundbreaking new business model for China's music industry.
Yin Liang, the music department director of LeTV.com and a participant in the forum, confirmed earlier reports that LeTV.com had gained the right to exclusively stream the future trip to outer space of HongKong singer-songwriter Tang Tszkei, who is better known by her stage name, G.E.M.