Singaporean abroad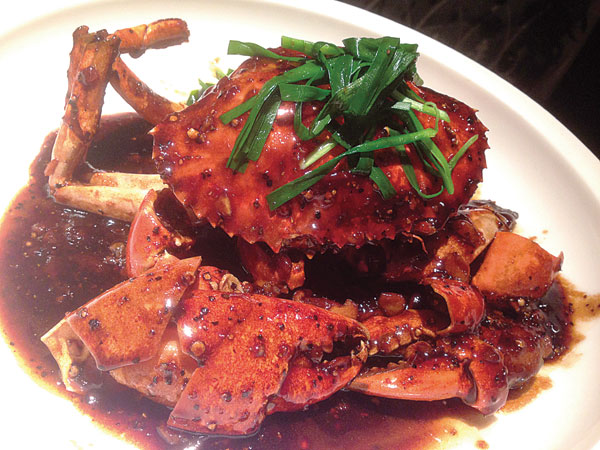 Pepper crab: A credible version of Singapore's national dish. [Photo provided to Shanghai Star]
The Lion City is well known for being a gourmet paradise that marries different ethnic influences into a delicious diet of dishes. In Shanghai, there are a few restaurants offering homesick Singaporeans a taste of home. The question is: Are they authentic enough? Pauline D. Loh tells you.
There is always a line during peak hours, and the rows of chairs placed strategically outside on weekends are evidence of its popularity. City Garden brands itself as a Singaporean restaurant and we were excited to try it out. Once past the spacious reception space, the layout becomes a little like Pan's labyrinth, and after being led around several meandering corridors we finally found a place for two. Settled, we discovered all the usual suspects on the menu, with a few unfamiliar cousins. There were all the classics — chicken rice, char koay teow (fried rice noodles), curry fish head, laksa, curry crab and black pepper crab.
It looked promising enough and the spouse and I settled down to wait. He ordered a Tiger Beer and I chose an iced teh tarik, the famous "pulled" tea from Singapore hawker centers.
The tea was obviously from a powdered mix, but I was happy with the slight tinge of ginger that characterized this tea from home even though it came chilled, and not iced.
Tiger Beer, of course, was the iconic beer of my little island republic. Sadly, the brand has now been handsomely sold off to an equally famous beer brewery in Thailand.
Our food was very quick to arrive. First on the table was bak kut teh, the classic pork ribs soup. City Garden claims their version is the traditional Chaozhou edition, and this is where I have my first quarrel with their authenticity.
Bak Kut Teh is popular in both Singapore and Malaysia, and the original version in Singapore, was popularized by the emigrant South Chinese dockworkers from Fujian and Chaoshan in Guangdong province. They only used the poorest cuts of pork bone and had nothing other than white peppercorns and garlic for flavoring.