Zhou Xun rated as China's favorite star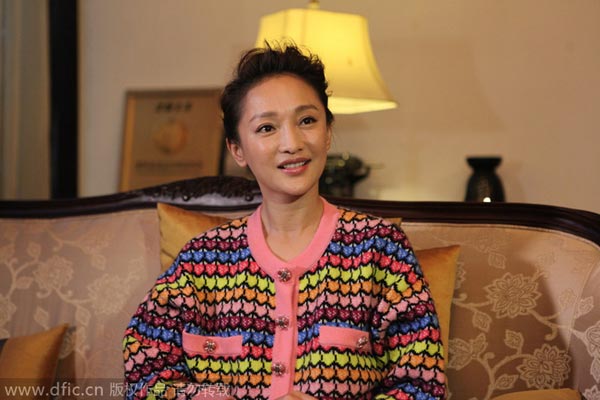 Chinese actress Zhou Xun, chairwoman of the panel of judges for the 2nd Zhejiang Youth Film Festival, listens to a question during an interview ahead of the award ceremony of the festival in Hangzhou city, east China's Zhejiang province, Nov 11, 2014. [Photo/IC]
The 15th Huading Award international celebrity's satisfaction survey was released yesterday in Beijing. Chinese actress Zhou Xun topped the list with 93.86 points and tainted actor Kai Ko ranked last on the list.
Singer Eason Chan and actor Chen Daoming followed Zhou as the top three this year.
Taiwan-based actor Kai Ko, who was detained in Beijing in August for use of illegal substances, scored only 31.13 points, lagging behind Zhou by 62.73 points.
Fellow actors Jaycee Chan, son of kung fu superstar Jackie Chan and Zhang Mo, son of veteran Chinese actor Zhang Guoli, both of whom also detained due to posession and use of drugs, were also among the bottom 10 on the list.
According to Wang Kun, secretary of the organizing committee of this year's Huading Awards, the list was created based on surveys conducted nationwide.
Nominees were selected from artists in the fields of film, television, theater, opera, dance, music and others. Each nominee was rated based on his or her morality, professionalism, philanthropic participation, social influence and commercial value.
The Huading Awards, established in 2007, recognizes excellence in showbiz based on surveys. The award ceremony will be held in Jan 18, 2015 in Macao.
Top 10
1. Zhou Xun (actress)
2. Eason Chan (singer)
3. Chen Daoming (actor)
4. Zhang Yimou (director)
5. Feng Xiaogang (director)
6. Nicholas Tse (actor and singer)
7. Tang Wei (actress)
8. Huang Bo (actor)
9. Mark Zhao (actor)
10. Wang Feng (singer)