Fashion 911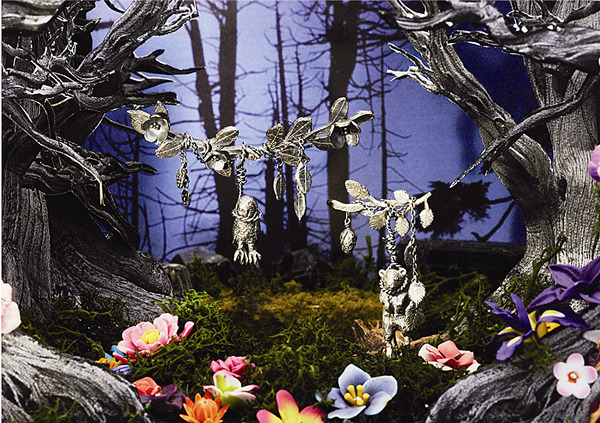 Jewelry from UK brand Momocreatura, whose latest collection, Nearly Dead, features sweet animal images like night owls and rabbits and is sold at XINLELU.COM. Photo provided to Shanghai Star
Got a late night wardrobe emergency? Who you gonna call? Why, Wu Yilei of course, who is opening the doors of her boutique till wee hours to cater for Shanghai's busy fashionistas. Xu Junqian reports.
Who shops for a floral-print strapless chiffon dress in the dead of night? Say, 2 am?
Perhaps no one is better equipped to answer that question than Shanghai native Wu Yilei.
Less than one month after the 30-year-old was hit with the inspiration for a "late night wardrobe" at her boutique XINLELU.COM, the postgraduate of London Fashion College has become the emergency fashionista physician of Shanghai. When the city's most well dressed (and well-off) women find themselves without a dress for an unexpected invitation for the next day, they pick up the phone and call Wu.
"The idea just hit me while I was running," says Wu, sitting in her cozy whitewashed studio in Jing'an Villa, that she describes as "the most creative community in Shanghai". Growing up, Wu dreamed of living in such a community, and she is thrilled to now call the space home. Within 15 minutes' walk, on a quiet phoenix-tree-lined street, is her store, which, before the introduction of the late night wardrobe, opened from 12 pm to 8 pm, four hours less than most department stores in the city.
"There is the Chinese saying that the dress every woman wants to wear the next day is always anywhere other than in her own wardrobe. Maybe because I am running a fashion boutique, I am often 'harassed' in the middle of night by my close friends and regular customers, asking if I have this or that for her look tomorrow," Wu says.
Wu's late night wardrobe is available for a shopping spree or simply, a look, "as late as the customer wants", but Wu says she has not "taken care of any emergency later than 3 am". Customers need to make an appointment two to three hours beforehand, via the WeChat account of the store or by phoning. The more specific the request, say a formal black dress for a meeting or a floral-print dress for a sudden beach trip to Thailand, the more likely the emergency can be solved, as Wu and her shop assistants, all of whom are from a fashion design backgrounds, can go through their stock and get everything prepared.
"I may not be the first person to have the idea (of a late night wardrobe), but the small size of our team and store makes everything more flexible and possible," she said.
"In a busy city like Shanghai, where people get off work at 8 pm and finish their dinner at 9 or 10 pm (most of the department stores in Shanghai close at 10 pm), the demand for a place to shop late at night is urgent, if not more so than buying a house," she jokes.