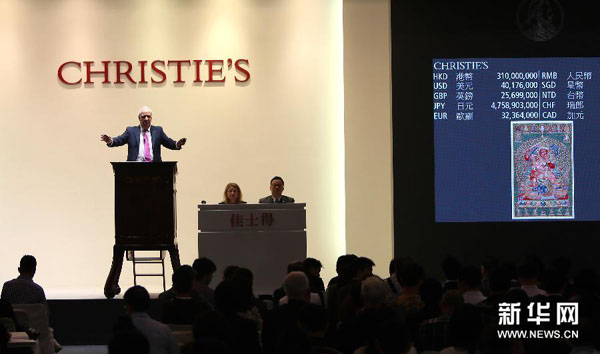 People attend the Christie's 2014 Hong Kong Autumn Auctions on Nov 26, 2014. [Photo/Xinhua]
Chinese private art collector Liu Yiqian has bought a highly important imperial embroidered silk Thangka for 348 million HK dollars (nearly $45 million) at Christie's 2014 Hong Kong Autumn Auctions on Wednesday.
According to the official website of Christie's in Hong Kong, the Thangka is 3.1 meters in length and 2.3 meters in width. It can be traced back to the period of Emperor Yongle of the Ming Dynasty and has a history of more than 600 years.
The bidding competition was intense and lasted for 22 minutes. The Thangka was finally sold for a record high of HK$348.4 million.
It is not the Shanghainese millionaire's first big purchase. He bought a valuable chicken cup, worth $36 million, by bidding over telephone at a Sotheby's auction in April, setting an auction world record for Chinese porcelain.
Both of the priceless Chinese art treasures antiques will go on display at his private Long Museum.