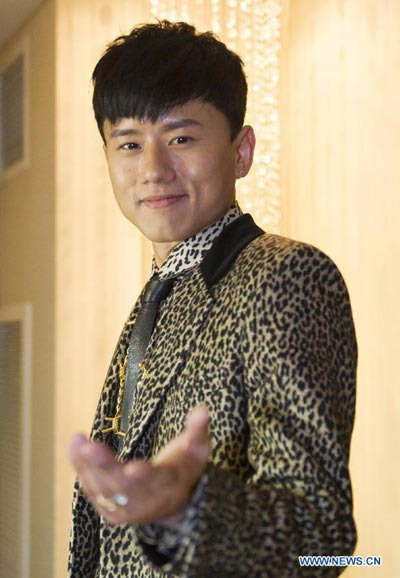 Chinese singer Zhang Jie poses for a photo after accepting the international artist of the year award during the 42nd annual American Music Awards at Nokia Theatre in Los Angeles, the United States, Nov 23, 2014. [Photo/Xinhua]
But Rafalowski said Zhang and the Chopstick Brothers' awards were new additions.
"The International Song Award and International Artist Award were made for foreign singers who have achieved a lot in their own country. The award given to Michael Jackson and other legends is for recognition of their global influence."
"We are glad to promote the brand of Dick Clark Productions internationally and feel proud to bring outstanding international singers like Zhang to the stage," he added.
The executive denied the awards could be bought. "The AMAs have a decent history of 40 years, do you think that is what we will do? It doesn't fit our tastes and status," he said.
The Chopstick Brothers previously denied they bought any award by just saying, "Do you really think we have that much money?" Zhang Jie's management also said they felt sad that people think about it that way.
Rafalowski pointed out the two awards were honor awards, which do not require nomination and votes, just like the new Dick Clark Award for Excellence received by Taylor Swift.
"We sent people to investigate in China about the sales of records, concert tickets, song downloads and streams, and social media popularity to decide who could receive the honors. We found that Zhang and the Chopstick Brothers' Little Apple are incredibly popular in China. Some people may have different opinions, but we cannot please everyone."
As for why the Chinese segments were put in the commercial breaks, he said it was because the tight scheduling and everything was imperfect since the international awards were a new format.
"We'll do better next year," he said.
Related:
Mixed responses follow Little Apple at AMA
Little Applewins international song of the year at American Music Awards
Boy bands top American Music Awards, ladies lead performances