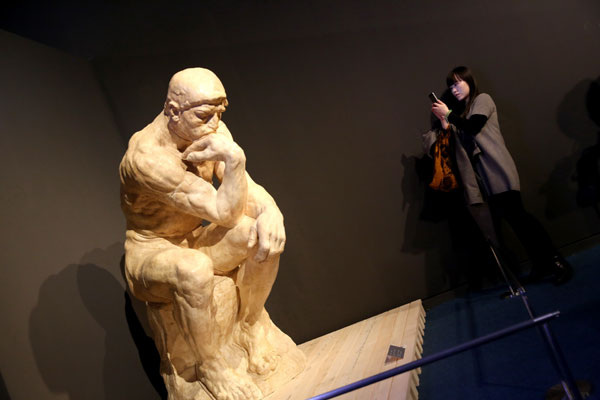 The Thinker is one of the highlights of French sculptor Auguste Rodin's exhibition in Beijing.[Photo by Jiang Dong/China Daily]
The National Museum of China celebrates France's muse of modern sculpture in a long-running retrospective, Xu Fan reports.
French sculptor Auguste Rodin, a legend in European art history, now has his largest exhibition ever in China.
On Saturday, the first weekend day since the retrospective show of Rodin's lifelong creations opened to the public on Nov 28, visitors flocked to the National Museum of China despite the haze and long lines outside the country's largest museum.
The exhibition charges one of the most expensive ticket fees in the free-to-enter museum's history of special shows: 50 yuan ($8.13) per person. Most of the museum's ongoing exhibitions, covering a wide range from oil paintings to sculptures, are free.
"It's worth it. After all, it's a rare chance to get such a close view of the master's works," says Wang Mei, a 23-year-old art college graduate working in Beijing.
The show, co-organized by the Rodin Museum in Paris and the National Museum of China, displays 139 classic works created by the progenitor of modern sculpture.
Near the entrance of the exhibition room, the nearly 2-meter-tall bronze statue of the famed The Thinker captures the attention of nearly everyone who passes.
Most of the visitors squat down to read the introduction and use their smartphones to take photos of the sculpture.
The Thinker, depicted as a nude pondering male, first came to Beijing 21 years ago.
Its display in the National Art Museum of China in 1993 got a rapturous response from capital art lovers, which impressed Catherine Chevillot, director of the Rodin Museum. The chief curator of the exhibition reveals that Rodin was attracted by Chinese culture and had a big collection of Chinese artworks.