Calypso sweetheart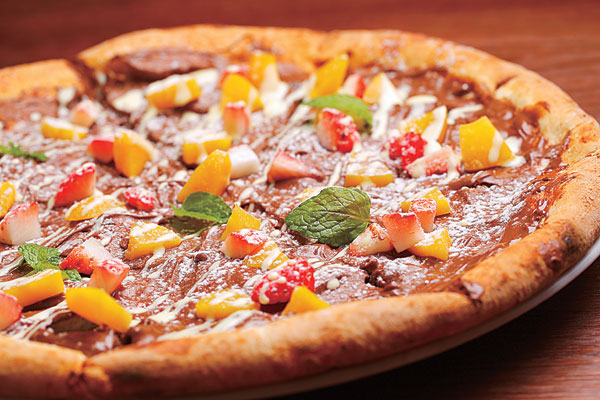 SWEETIE PIE: Ferrari names this sweet creation Bruno's Pizza. [Photo provided to shanghai star]
There's a new charmer at Calypso at the Jing'an Shangri-La, and he believes in serving up sweets to the sweet. Pauline D. Loh succumbs to the temptation.
There is great weakness for chocolate hazelnut spread in our family. We can demolish a jar in a week easily and the patriarch has been known to surreptitiously lick the jar clean because the shops were closed and we forgot to buy a fresh tub.
When a pizza combines hazelnut chocolate spread on the base, is topped by pieces of peach and strawberry and then drizzled decoratively with a pure white vanilla sauce, it becomes a girl magnet.
Make that plural, because one girl simply cannot finish the whole pie, and you need at least four pairs of sweet lips to demolish it to the last crumb. The creator of the pizza is a charmer, too, and no less a girl magnet.
Bruno Ferrari is the new chef de cuisine at Calypso and he's very ready to make his mark with diners, male or female. An Italian to the heart, this easy-talking, good-looking chef is very serious when he talks about taking us on an epicurean journey through Italy, sampling the cuisines of north and south, east and west, He starts with making sure diners are getting the best pasta, the heartland ingredient of all Italian cooking.