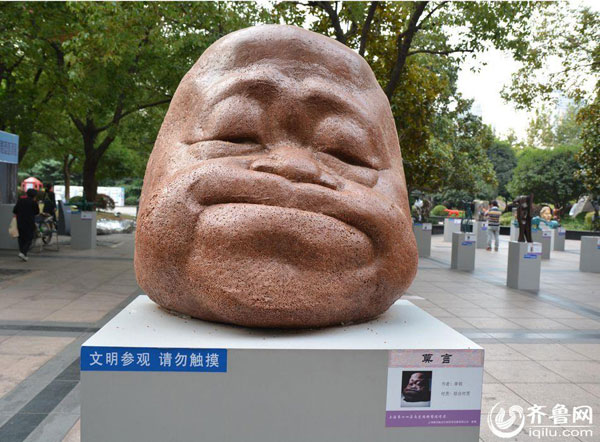 A sculpture of Mo Yan is shown on Wusa Square in Shanghai, Oct 9, 2014. [Photo/iqilu.com]
A sculpture of Chinese writer Mo Yan shown in an exhibition in Shanghai sparks debate, with some saying it's "cute" while more saying it's uglifying the Nobel Prize laureate, China News Service reported.
A sculpture exhibition is underway in Wusa Square in Shanghai, with a statue of the renowned writer Mo Yan in the center place.
Some previous reports carried commentary on the sculpture, "from near it looks like a brown potato, slightly giving out a smell of earth while from a distance, 'Mo Yan' bulges his cheeks and shuts his mouth tight. He seems holding back the words which spring to his lips…"
An Internet user on Sina Weibo said "I think it's cute", with some agreeing with the comment.
But more people have negative comments about it. One said, "it looks like a potato as well as a pig's head. It's uglifying China's first Nobel Prize laureate, Mo Yan."