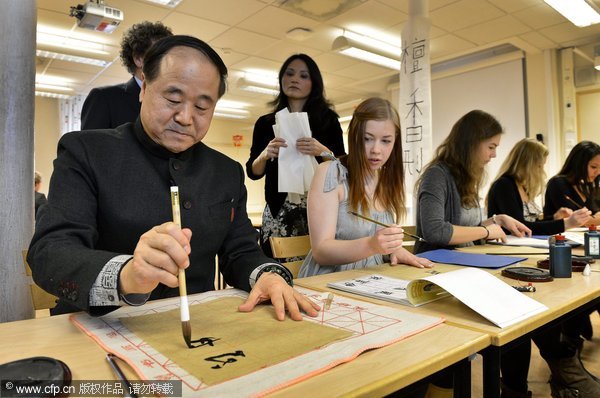 The 2012 Nobel Prize winner for Literature, Mo Yan (L) displays his Chinese calligraphy skills to students during a visit at the Hersby Gymnasium high school in Lidingo, Sweden, Dec 7, 2012. [Photo/CFP]
Two pieces of Mo Yan's calligraphy were heavily bidded upon at a
Beijing
auction on Wednesday and eventually sold for 230,000 yuan ($36,900) and 138,000 yuan respectively, Beijing Daily reported.
Since Mo won the Nobel Prize in Literature in 2012, his calligraphy works have surged in price. Collectors estimate that his calligraphy pieces will jump ten times in value in the future, making him the most valued calligrapher among Chinese writers.
Mo's ink-works have frequently appeared in newspapers and at exhibitions in recent years. The brush writings created with his left hand are said to be interesting and sensuous.
One of the auctioned pieces, 35*137cm, was estimated to be worth 30,000 to 50,000 yuan before auction and was finally auctioned for 138,000 yuan. The other piece, 70*137cm, estimated between 50,000 to 80,000 yuan, was sold for 230,000 yuan.