Huge pack of stray dogs in Hungarian film wows Cannes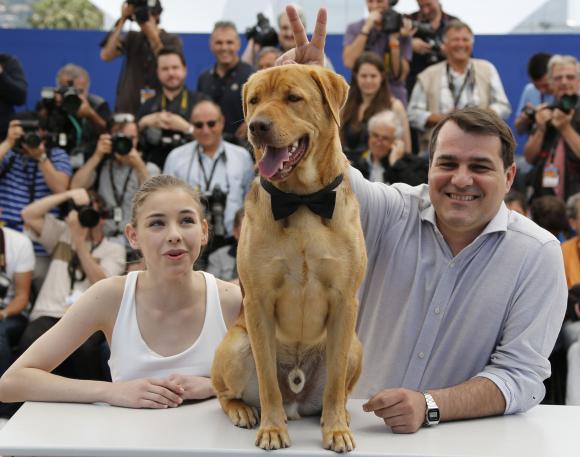 Director Kornel Mundruczo (R) and cast member Zsofia Psotta (C) pose with a dog sitting on the desk during a photocall for the film "Feher isten" (White God) in competition for the category "Un Certain Regard" at the 67th Cannes Film Festival in Cannes May 17, 2014. [Photo/Agencies]
Anyone with a fear of dogs is not going to get over it by seeing the Hungarian movie "Feher Isten" (White God) which has made a stir at the Cannes film festival with a scene that is all the more remarkable because it is filmed with real animals.
The film opens with a young girl, carrying a trumpet in a backpack, cycling through the deserted streets of the Hungarian capital Budapest in broad daylight.
It suddenly turns terrifying as a huge pack of some 200 or more vicious, barking dogs, all of them real, none of them created by computer simulation, bounds around a corner and heads straight for the young rider.
In the background the frame shows a crashed bus and cars abandoned by drivers fleeing the strays terrorizing the city.
Telling more would be a spoiler but Teresa Ann Williams, the Hollywood dog trainer who prepared the animals along with Hungarian trainer Arpad Halasz, said she had never done or seen anything like it before.
"You know it's unheard of to think of doing 200, 250 dogs running together through the city of Budapest," she told Reuters in an interview in conjunction with the premiere.
The screening at the film festival, and reviews afterwards by critics who said they were bowled over by how the dogs were used in the film, are a huge shot of adrenaline for Hungarian director Kornel Mundruczo, who spent years on the project.
He said that much as he likes computer-generated images that have been used, for example, to create the tiger in "Life of Pi" and other films, that would not have worked for his tale about the girl's search for her lost dog Hagen, which her father has forced her to abandon on a highway because it is a mutt.