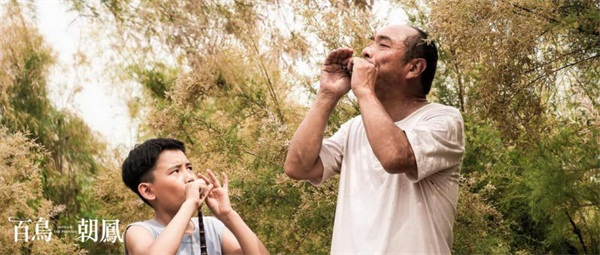 A still frame from Song of the Phoenix. [Photo/IC]
It could have been just another Chinese arthouse film that won critical acclaim but sank commercially. Instead, respected Chinese producer Fang Li rewrote the film's destiny by falling to his knees to beg for more screenings.
Song of the Phoenix depicts two generations of suona players, delving into their dedication to this traditional Chinese musical instrument and their father-son relationship. The film is the swan song of famous Chinese filmmaker Wu Tianming, who died shortly after the film's completion in 2014.
Fang's plea appears to have borne fruit, as more than 300 theaters across China arranged prime-time slots for the movie this past weekend, sending it on a swift ascent to third place at the box office with $7 million, according to CBO, a website tracking China's box office.
Box office receipts don't necessarily guarantee film quality, but Song for a Phoenix is truly an exception.
It's no coincidence that the major character in the film, You Tianming, has the same name as the director, Wu Tianming. Both are stubborn, loyal and hold onto a fading form of craftsmanship with an "outdated" technique. Tianming in the movie wants to protect the traditional suona culture, while Tianming the director champions "pure" traditional narrative methods in movie-making.
"Suona is not played for anyone else, but for the player's own self," goes a quote from the movie. Both are true to themselves. The music of the suona is etched into Tianming's soul, and so is this heartfelt narration in the director's soul.
However, some observers believe that while literally begging for attention helped Song of the Phoenix, what about other art films? Not every independent filmmaker can be expected to beg to get a fair chance on the screen for their films.
Moviegoers prefer to watch star-studded commercial films. Theaters thus end up squeezing out art house films to make space for more screenings of profitable blockbusters. For films like Song of the Phoenix, such topics and the lack of stars or funding for marketing mean that the film flies under the radar for many moviegoers.
While most art films have long-term struggles in the commercial film market, there are some successful products that turned out to be surprise crowd-pleasers, as well as high artistic value and good humanistic qualities.
If arthouse movie makers want to boost revenue at the box office they should develop better promotion strategies. There is still a place for films like Song of the Phoenix in China's movie market. It's just that audiences need to be nurtured and guided to cultivate their taste.
Another possible solution being discussed by filmmakers is the establishment of cinemas dedicated to showing more art films. This will provide more accessible channels for those who love these types of movies.
Currently theater owners and investors should encourage cinematic diversity. They should enlarge their selection ranges, giving chances to assorted types of movies, which will send a message that only those high-quality works with personal cultural stamps and humanistic value can stand out.
The art-house films with their aesthetics and personal stories are an integral part of the Chinese movie industry.
Excerpts from People's Daily online, organized and rewritten by Song Jingyi.