Get set for food carnival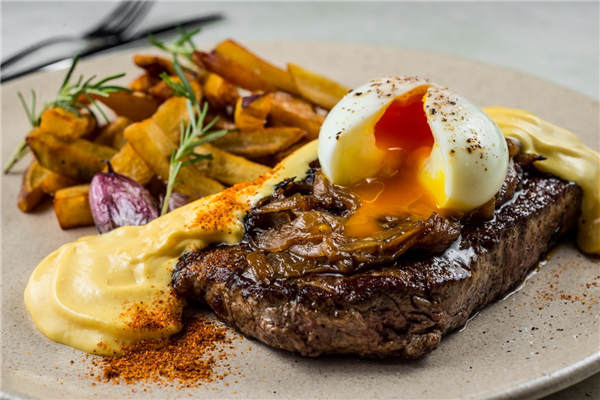 In Brazil "meat" means beef, including this hearty beefsteak with chorizo and hollandaise sauce. Photos by Bruno Maestrini/China Daily and Provided to China Daily
Brazil's cuisine is getting global attention as the Summer Games in Rio near. A Brazilian chef visits Beijing to bring a sampling to Chinese diners, Mike Peters reports.
Erik Nako's baggage must have puzzled the scanner operators at Chinese customs when he arrived in Beijing on Monday.
"In a way, I traveled light - I think I have five T-shirts and a couple of pairs of pants with me," the young Brazilian chef says.
But Nako wound up paying for excess baggage, because he was also toting 140 kilograms of exotic foodstuffs.
The Rio de Janeiro native is in China's capital for a food festival that the Brazilian embassy has organized for a fifth year. This time, however, there is heightened interest in the weeklong party for foodies that starts on Saturday, because Nako's hometown of Rio de Janiero is about to host the Summer Olympic Games. LATAM Airlines and Renaissance Beijing Capital Hotel are co-sponsors of the festival.
The chef is an old hand at being an ambassador for his country's cuisine. At home, he shares his expertise through magazine pages, television screens and his varied food businesses. He studied culinary arts at the Institut Paul Bocuse (Lyon), and today he owns an Italian bar called Prima Bruschetteria, the Brazilian-Mediterranean restaurant Verso in the downtown Rio area, a Brazilian cheese-bread brand, and a food consultancy company.
Recently, he and his partner have also traveled to Lebanon, Kenya and Ethopia to spread the world about Brazil's diverse food culture.
"Of course, when you say 'Brazilian food,' everybody thinks churrasco - our barbecue," he says of his famously carnivorous nation.
But when asked about what sets Brazil's food apart from the rest of Latin America's, the first example out of his mouth is not meat on a stick but "cassava", the root vegetable also known as yuca.