Ancient Chinese start to brew beer 5,000 years ago, shows new evidence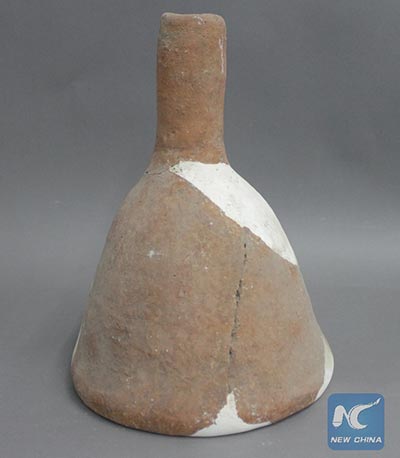 Funnel for beer brewing found at Mijiaya, an archaelogical site near a tributary of the Wei River in northern China. [Photo/Xinhua]
People in ancient China may have st
art
ed enjoying the delights of beer as far back as 5,000 years ago, showed archaeological evidence released Monday by Chinese and US researchers.
So far, the earliest written record of beer in China appears in oracle bone inscriptions from the late Shang dynasty about 3,000 years ago, which showed ancient Chinese used malted grains such as millets, barley and wheat as the main brewing ingredients.
Some studies, however, hypothesized that the Shang tradition of beer brewing has its origin in the Neolithic Yangshao period dating 5,000 to 7,000 years ago, when large-scale agricultural villages were established in the Yellow River valley.
In the new study, researchers excavated two subterranean pits dated to around 3,400 to 2,900 BC at Mijiaya, an archaeological site near a tributary of the Wei River in northern China.
Three types of vessels were recovered in both pits: wide-mouth pots, funnels, and jiandiping amphorae, all of which have yellowish residues on their interior surface.
The shapes and styles of the vessels suggested they were used in three distinctive stages in the beer-making process: brewing, filtration, and storage, the researchers reported in the US journal Proceedings of the National Academy of Sciences.
Interestingly, each pit also contained a pottery stove, which could serve as a heating equipment to provide heat for mashing grains in brewing activity.
Morphological analysis of starch grains and phytoliths found inside the artifacts revealed broomcorn millets, barley, Job's tears, and tubers, said Jiajing Wang of the Stanford University, who led the study.
Some starch grains bore damage patterns that precisely match the morphological changes developed during malting and mashing observed in their own brewing experiments, Wang said.