Go vertical with Mondavi, and drink Bull's Blood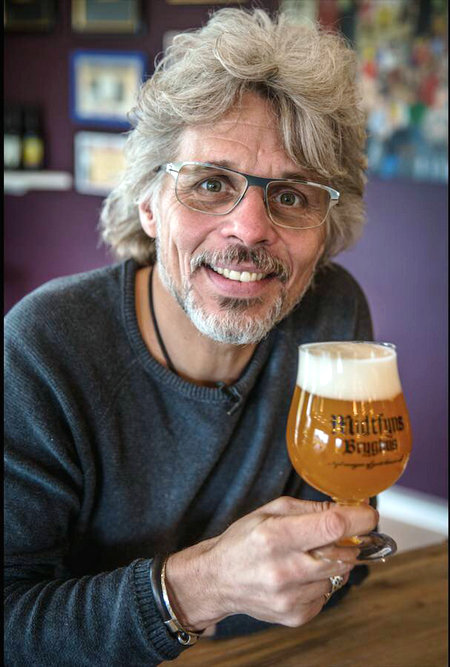 Danish brewer Eddie Swezda will present his award-winning Midtfyns Bryghus beers in a series of tastings around China. [Photo provided to China Daily]
The late Robert Mondavi is widely credited with making California wines famous for quality, and his celebrated winery turns 50 this year. At a vertical tasting of some of Mondavi's best wines of the previous decade-the cabernet sauvignon reserves of 2002 and 2005-2009, media and the local trade got a quick lecture on how weather affected each year's production and blending.
Director of winemaking Genevieve Janssens seemed to favor the rich, smooth vintages from cool and wet 2005 and 2006, but the Chinese crowd-pleaser was probably the big and bold 2007 vintage, one of the winery's biggest successes. Needless to say, little of these wines ended up in the tasting spittoons.
When Mike Signorelli texted me last with an invitation to drink Bull's Blood, my inner Hemingway came out of nowhere. This "blood", of course, has nothing to do with matadors or bullfights: It's the 2009 vintage of the limited-production Arpad Bull's Blood from Hungary.
Signorelli runs the Signature Wine Club, whose members across China get a delivery of wines each month that are not available in stores, selected by a panel of experts for their quality and price. The 2007 Arpad Bull's Blood was a huge hit in the club, and in response Signorelli has grabbed 1,000 bottles of the silky 2009 vintage.
Last week's tasting was one of two hosted by the Hungarian Federation of Wine Craftsmen; that organization also presented five wines at a Hungarian food festival dinner at the Minzu Hotel. The opening wine, the white 2013 Grof Degenfeld Tokaji Furmint, was also a crowd favorite.
Fans of Midtfyns Bryghus can taste some of the Danish brewery's intriguing craft offering with owner Eddie Swezda, who starts a five-city China tour on Friday in Shanghai at Beer Together (8 pm). The highlight will likely be a 5:30 pm beer-pairing dinner at Liquid Laundry on Saturday, and from there Swezda will be sharing craft-brewing stories and suds at Fly Fish in Hangzhou (8:30 pm on Sunday) and Ai Shang in Ningbo (7 pm on Monday) before coming to the capital for three days. Beijing tastings will be at Drunk (8 pm on Tuesday), Flow Brew (8 pm on Wednesday) and Beijing Beer Lab (8 pm Thursday). The events wrap up in Shenzhen on April 30 with a 2 pm tasting at Foam Heaven.
RSVP is recommended as the tastings will be limited to about 20. The 10 featured beers include three that were showcased at the Beijing Invitational Craft Beer Festival in February: the award-winning and spicy Chili Triple, the Russian Imperial Stout (voted best new beer in Denmark 2015) and two new exclusive versions.