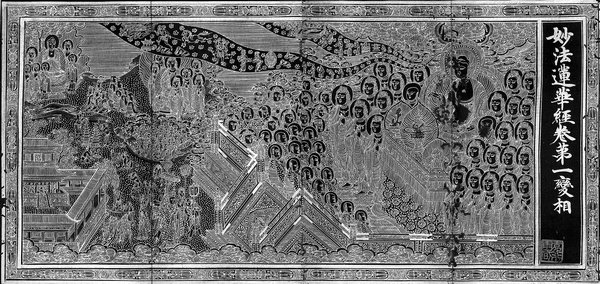 The upcoming Sotheby's auction in Hong Kong features some of the country's rarest treasures, such as The Lotus Sutra from the Yuan Dynasty (1271-1368) and an album of landscape paintings and calligraphy by Shitao from the Qing Dynasty (1644-1911).[Photo provided to China Daily]
Works from several centuries past will be part of Sotheby's semiannual offering of Chinese art, Lin Qi reports.
Eleven classical Chinese paintings and calligraphic pieces, collected by a private library in Zhejiang province over a period from the late Qing Dynasty (1644-1911) to the time of the Republic of China (1911-49), will go under the hammer in Hong Kong on May 30.
A highlight is The Lotus Sutra, a calligraphic set of seven albums of Buddhism inscriptions written in gold on blue paper by an anonymous artist of the Yuan Dynasty (1271-1368).
The Mi Yun Hall library was built on an accumulation of books by Jiang Ruzao (1876-1954), an entrepreneur in Huzhou, Zhejiang province.
The collection boasts rare and quality titles of the Song (960-1279) and Yuan dynasties.
His son Jiang Zuyi (1902-73) extended the spectrum of the family collection to classical Chinese paintings, calligraphic pieces and other antique works of art.
Jiang Zuyi remained an art connoisseur after moving to Taiwan in the 1940s, together with his family's cultural specimens.
Items from the Jiang family's collection to be auctioned by Sotheby's Hong Kong also include Letters, four calligraphic scrolls of the Song Dynasty government official Zhang Wenjing.
They not only provide reference to the development of Chinese calligraphy but also Song politics.
An album of 10 leaves of landscape paintings and calligraphy by early Qing painter Shitao, the pseudonym of Zhu Ruoji, will also appear in the salesroom.
Measuring only 20 by 15 centimeters for each leaf, the works reveal his impressionistic brushstrokes and masterly use of space to present a feeling of solitude.
Sotheby's launched a sale devoted to classical Chinese painting as part of its autumn sales in Hong Kong in October. Starting with the upcoming sale, the auctioneer will hold two auctions of classical Chinese paintings every year.