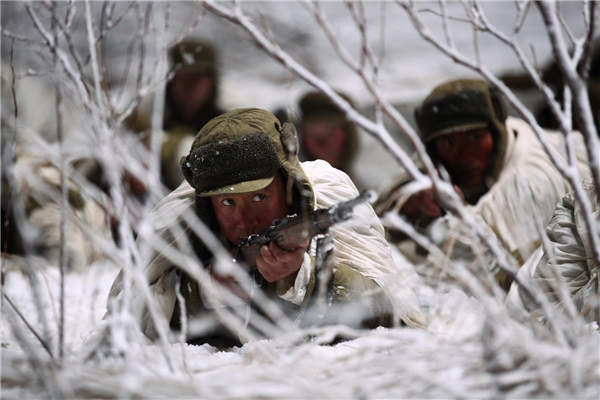 TV series The 38th Parallel focuses on Chinese soldiers in the Korean War in the 1950s. Photos provided to China Daily
A Chinese TV series on the Korean War will be broadcast nationwide for the first time. Xu Fan reports on the emotional behind-the-scenes journey of its makers.
The atmosphere turned somber when actor Zhan Shigang spoke of Chinese casualty figures at a recent Beijing event to promote his upcoming TV series, The 38th Parallel.
More than 180,000 Chinese soldiers were killed, 383,000 were injured and 25,000 went missing during the Korean War that was waged for three years from 1950.
"They deserve our homage today," Zhan said last week, bowing to his knees.
Other members of the series' cast and crew were also present.
The 38-episode series, which will be aired from May 28 on Beijing Satellite TV, follows the journey of two Chinese fishermen who live by the Yalu River in Northeast China as they transform into fighters to protect their country and the neighboring Democratic People's Republic of Korea during the war.
Witnessing American bombings kill their families, the protagonists of the series join some 1.35 million Chinese soldiers in the fight.
The United States was supporting the Republic of Korea during the conflict and was involved in the region before 1950 as well.
Although Chinese films about the war were made earlier, The 38th Parallel is the first TV drama on the subject to be broadcast nationwide in more than six decades.