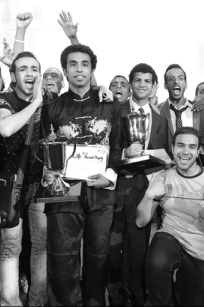 The Chinese Bridge competition is held on Wednesday in Cairo, Egypt.[Photo/Xinhua]
As Ahmed Magdy from Ain Shams University finishes his 7-minute performance fusing traditional Chinese comedy with trendy Chinese pop music, the grand hall of Cairo University echoes with thunderous applause.
More than 1,000 people have gathered on Wednesday morning, not only to witness this year's Egyptian final of Chinese Bridge-a language competition-but also to mingle with the large community of Chinese-language learners in Egypt.
Chinese Bridge is not only a platform where students showcase their language proficiency but also a festival for them to get together, says Han Bing, minister-counselor at the Chinese embassy in Cairo.
Watching her students performing onstage, Rehab Mahmoud, director of the Confucius Institute at Cairo University, speaks of how she perceives the change of Chinese learning in Egypt over time.
"When I went to Ain Shams to learn Chinese in 1988, my parents and friends were all shocked," she says. "They asked me why I picked this language when there were dozens of other languages that were more popular."
The number of students at the Confucius Institute at Cairo University has increased from 30 in 2007 to more than 1,500 in 2015, says Mahmoud.
Eleven students from seven universities took part in Wednesday's competition, but there are 2,000 students learning Chinese from 10 universities across Egypt, says Han.
As the number of Chinese learners has sharply climbed in the country, the methods of learning have also changed.
"When I was a student, we had two or three teachers from China-no textbooks, no dictionaries, no Chinese friends and, of course, no internet. The only way to make progress was talking to Chinese teachers," says Mahmoud.
"Now everything has changed. Students not only learn Chinese language at the institute, but can also enjoy Chinese movies, TV shows and literature, among other things," she says.
"Now is the perfect time to learn Chinese."
Salma Ragab, a Chinese major at Cairo University, says: "I have watched many Chinese movies and TV dramas online, including Love Is Not Blind, Jin Tailang's Happy Life and The Legend of Zhen Huan, just to name a few. In fact, Chinese TV dramas are the new cool in Egypt."
As more Chinese TV dramas, movies, pop music and mobile apps become readily accessible to Egyptians, Chinese learners find the language gradually becoming a part of their lives.
"I have visited China three times, my best friend and girlfriend are both Chinese, and I want to start my career in China after graduation," says Magdy, winner of the top prize on Wednesday.
"So China is not only a dream but also a lifestyle."