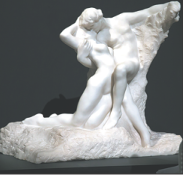 Auguste Rodin's L'Eternal Printemps is displayed during the spring auction preview at Sotheby's in New York.[Photo/Agencies]
A Rodin sculpture set an artist's auction record at Sotheby's when it sold for $20.4 million.
However, the strong price was likely to provide little reassurance to an art market that many fear is softening after years of rising prices.
Sotheby's sale of Impressionist and modern art took in $144.4 million on Monday, missing the low pre-sale estimate of about $165 million for 62 lots offered. One-third of the works went unsold.
Despite some high points that drew spirited bidding, the sale was marked by its relatively high unsold rate and somewhat tepid prices for works that did find buyers.
Auguste Rodin's marble sculpture L'Eternal Printemps soared far beyond its estimated price of $8 million to $12 million, and broke the Rodin auction record of just under $20 million.
Drawing intense global competition, Sotheby's pointed to the work as emblematic of the type of fresh-to-market quality works that auction houses must now offer to trigger strong prices and spirited bidding.
Executives used words such as discerning, measured and selective to characterize the night's results and the market itself.
"It's emblematic of the marketplace we're in right now," said Helena Newman, European chairman of Impressionist and modern art. "It's a nuanced market."
After years of soaring prices, Sotheby's and rival Christie's have assembled markedly smaller spring sales, with no works carrying estimates much beyond $40 million. In recent seasons, several works have broken the $100 million mark.
The expected highlight of Monday's sale, Andre Derain's Les Voiles rouge, estimated at $15 million to $20 million, failed to sell. Picasso's Buste d'homme Laure, expected to fetch $8 million to $12 million, suffered the same fate.
Among highlights, Maurice de Vlaminck's Sous-bois fetched $16.4 million, in the midst of the estimate range, and Monet's Maree basse aux Petites-Dalles sold for $9.9 million, nearly doubling the high estimate. Three Monets were among the 10 highest-priced lots.
Sotheby's has suffered a spate of resignations by top executives, many of whom had worked there for decades, as well as the departure of its long-serving CEO.
Monday's auction stood in contrast to Christie's sale on Sunday that featured challenging works by artists typically considered less than commercial. It took in $78 million, handily beating the pre-sale estimate of about $60 million. But a similar Christie's sale in the autumn took in $495 million.