Porchetta makes a stylish party, Provence-style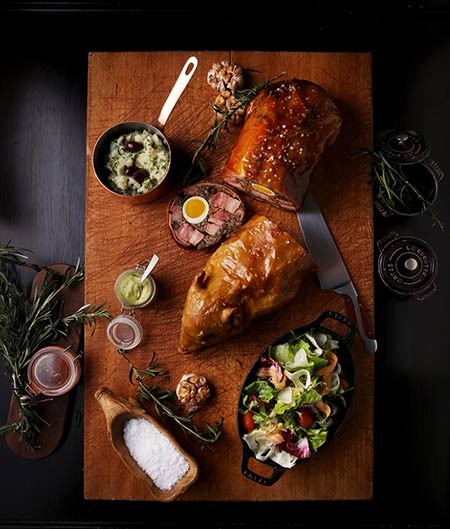 Jarrod Verbiak's porchetta, succulent inside with crispy crackling outside, is a work of culinary art. Provided to China Daily
Chef Jarrod Verbiak is nothing if not patient. Perhaps the quietest of Beijing's highest-flying foreign chefs, Verbiak is happy to invest three full days to prepare a new signature dish for his menu at Bistrot B: Porchetta.
Roast suckling pig gets star treatment in many cuisines. Verbiak's version gives a French twist to a dish with roots in Italian cuisine. His slow-cooked version boasts a secret-recipe stuffing made with fresh herbs from Provence, bacon, pork belly, spinach, carrot, rice, chilies, eggs and more.
The body of the year-old piglet is gutted, deboned and arranged carefully with layers of stuffing, meat, fat and skin. Next it's rolled, sometimes spitted and then roasted, traditionally over wood.
Porchetta is traditionally heavily salted in addition to being stuffed with garlic, rosemary, fennel or other herbs, often gathered wild in the French countryside. Roasting with low heat avoids drying out the pork or filling, so each slice will be succulent after the pig gets a high-heat flash finish to make the outside nice and crisp.
If you've grilled some pork yourself, you may wonder what takes even a fancy French chef like Verbiak so long. Here's his rundown of the steps involved:
1. Blending of the salt cure;
2. Butchering, marinating and bathing of the piglet;
3. Preparation of the stuffing;
4. Grinding and mixing of the stuffing;
5. Poaching and peeling of the eggs;
6. Slicing the pork belly and rolling the stuffing;