Noodles offer taste of Lanzhou in Beijing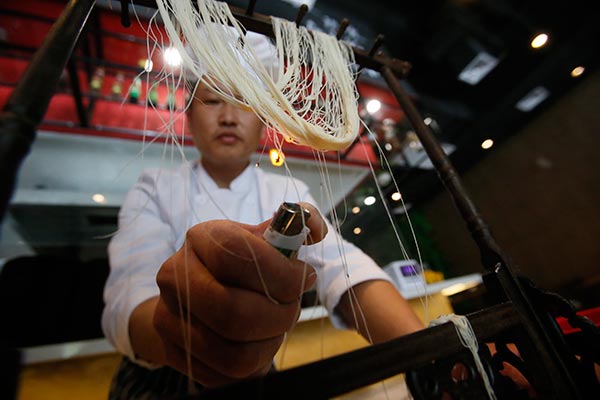 Chuangke Beef Lamian restaurant offers tasty Lanzhou noodles for Beijing diners. [Photo by Jiang Dong/China Daily]
Lanzhou, the capital of Northwest China's Gansu province, has been famous for its signature hand-pulled noodles since the Qing Dynasty (1644-1911).
Chuangke Beef Lamian, a newly opened restaurant in Beijing, has brought authentic Lanzhou noodles to local diners.
Located in the Youke Space in Haidian district, the restaurant is founded by Lanzhou masters Qu Zhaozhe and Li Yonglin, who have cooked the noodles for national leaders.
Authentic Lanzhou noodles have eight different widths for diners to choose from, and the noodles are handmade one bowl at a time, according to Qu.
The soup broth is the soul of the taste of a bowl of the noodles, and the restaurant has a secret recipe that uses myriad spices, herbs and meats, says Li.
Qu and Li are so eager to spread the proper methods for their culinary art, they welcome people to visit the restaurant to learn how to make authentic noodles, even people who want to start their own noodle restaurants.
Related: