Follow your own rules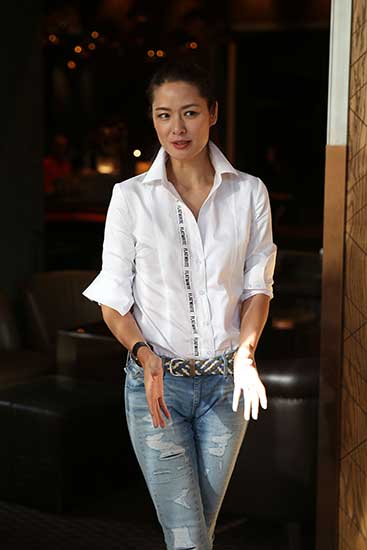 Former supermodel Ma Yanli will launch her new clothing range that combines the simple look of a white blouse with blue jeans.[Photo by Wang Zhuangfei/China Daily]
Chinese designers should now aspire for individualism like Western designers do, Ma Yanli, a former supermodel tells Andrew Moody and Yan Dongjie.
Leading fashion designer Ma Yanli, also known as Mary Ma, says Chinese designers have no need to flaunt their Chinese origins in the clothes they produce.
The 41-year-old former supermodel and actress says they should aim instead to be as individualistic as Western designers.
"Today's top Chinese designers are designers in their own right and are competing with other international designers. Of course, designers reflect their personal influences and some of these may involve Chinese characteristics, but this is not what it should be about," she says.
"It is not East versus West or China versus America, it is down to individual designers."
Ma, once described as China's answer to American model Cindy Crawford, was speaking at the Kerry Hotel in Beijing, ahead of the launch of her new clothing range that combines the simple look of a white blouse with blue jeans. (Video: Model Mary Ma on colors)
The blouses, which will be available online later this month, will range in price from 399 yuan ($61) to 2,500 yuan. The jeans-to be launched in June-will be similarly priced.
"I like simple clothes in my daily life since they suit many situations-from relaxing at home and going to dinner with a friend to a relatively important event like an interview," says Ma, who was wearing an outfit from her new range for a China Daily interview.
"I think girls are sexy when they are in jeans. You can forget about your height or weight, and just match a white shirt and jeans. Everyone can look great in this, if you are confident about yourself."
Ma, who studied design at Shanghai-based Donghua University, launched Maryma Haute Couture in 2005. It is based in Beijing and now employs 20.
Earlier this year, her company was chosen to design outfits for Chinese Premier Li Keqiang as well as leaders of five Asian countries for the welcome dinner of the 1st Lancang-Mekong Cooperation Leaders' Meeting in Sanya in South China's Hainan province.
The design on the blue tunic made for the event had a representation of the Mekong River with a flower to mark each of the six countries that surround it.
"It was our first design related to either diplomacy or government. I was so proud seeing the leaders wear our designs. We worked crazily for a whole month on them (the outfits)," she says.
"Many at the dinner came to me and praised my design. It was a milestone for our business," she adds.