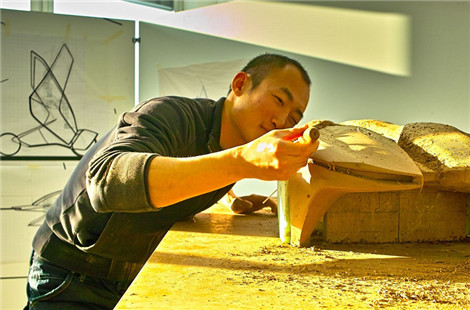 Yan starts his design life at Nanjing University of Arts. [Photo/provided to chinadaily.com.cn]
As the only Chinese member on Audi's prestigious design team, Yan Siming has the enviable job of designing the exterior of Audi's many car models and concepts.
Now living in Germany and working out of Audi's global headquarters, Yan started his design life at Nanjing University of Arts, where he first developed his creativity and passion for design by developing new and imaginative twists on mobile phones.
Under the tutelage of his mentor, Zhang Ming, assistant dean of the School of Industrial Design, Yan was introduced to the world of automotive design, sparking his passion, but warned of the industry's competitiveness. Zhang told him that among the world's top automotive brands there are only 3,000 designers, making the industry extremely difficult to get into. But Yan never gave up.
Upon completing his degree, Yan worked designing mobile phones, where he was very successful, selling many of his products on the market and earning in excess of 10,000 yuan a month ($1,500), as well as winning five patents for his designs.
However, during downtime on workdays, Yan's passion for automotive design would always resurface, as he made countless sketches and scribblings of concepts for cars both modern and futuristic. So much did his passion creep through that it got to the point where his bosses ordered him to stop designing cars in the workplace.
And so, Yan gave up his stable, well-paid job in order to pursue his dream, and applied to study at the University of Germany, majoring in Transportation Design.
When asked why he took such a risk, Yan replied that his mentor had instilled such a passion and drive in him that he refused to give up hope, and that it was his destiny to follow his dream in life.
Yan was accepted by the German university and excelled in his study. For his graduation project, Yan chose to integrate Chinese elements into his automobile designs.