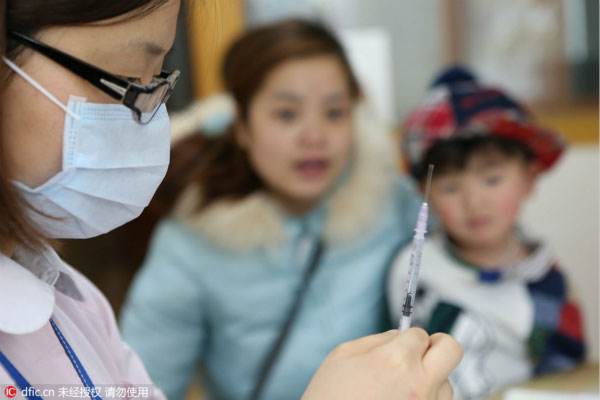 A Chinese medical worker prepares to vaccinate a young kid at a hospital in Shanghai, China, March 20, 2016. [Photo/IC]
Chief government officials should resign if serious vaccine violations occurred in their jurisdictions, according to a revised regulation approved by the State Council, China's Cabinet, ahead of National Children's Inoculation Day, which fell on Monday.
The revision of the previous regulation on the management of vaccines was made after a scandal involving 570 million yuan ($88 million) worth of Category 2 vaccines that had been stored improperly and sold across China.
Category 2 vaccines are considered optional.
The regulation was passed on Saturday and took effect immediately, the report said. It intensifies management rules for vaccines, including their transportation and storage, and increases punishments for violators.
China will also raise the amount of compensation paid to those suffering abnormalities after receiving vaccines. Measures under consideration include the introduction of commercial insurance to improve fairness and efficiency in compensation, the regulation says.
Commercial insurance is expected to play an important role in compensating people for any health problems connected with vaccines, the report said, citing the National Health and Family Planning Commission.
In the past, responsibility for compensation belonged to vaccine producers or to the government.
Although vaccines can provide immunization against certain diseases, they can also cause side effects and result in serious physical harm in some individuals because of a person's health condition, although the chances of developing problems are extremely low, according to experts.
Vaccines represent the primary means in most countries to prevent and control infectious diseases, and parents should get their children vaccinated as required by the government, said Yu Wenzhou, an expert at the Chinese Center for Disease Control and Prevention, which runs a national immunization program.
Major infectious diseases that mostly affect children have been reduced to the lowest level in Chinese history, the National Health and Family Planning Commission, China's top health authority, said on Monday.
The commission also called for the public to continue following national policies and make sure all children receive required vaccines to better prevent diseases.