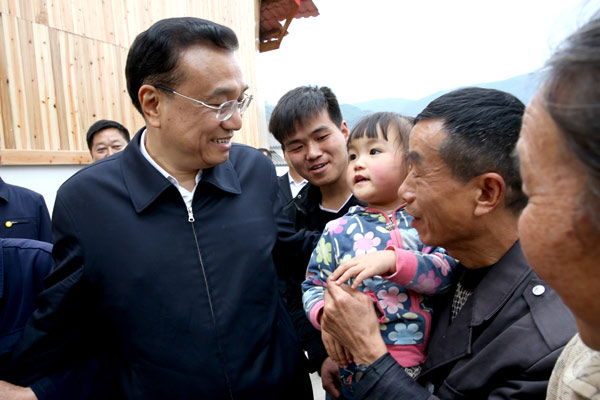 Premier Li Keqiang talks with villagers in Lushan county, Sichuan province, on Sunday. Lushan was hit by a deadly magnitude-7.0 earthquake in 2013. Li's trip marked the third anniversary of the disaster. [Photo/Wu Zhiyi]
Premier Li Keqiang hailed the people of Lushan on Sunday for their "unbreakable spirit" after paying tribute to victims of the 2013 earthquake.
He was visiting the county in Sichuan province to inspect reconstruction work four days after the third anniversary of the magnitude-7.0 quake, which claimed 196 lives and injured more than 14,000 people.
"The unbreakable spirit of the Sichuan people has helped build new homes, and it will drive them to a better life," the premier said.
He paid tribute to victims in front of the Lushan Earthquake Memorial Museum with a minute's silence and placed flowers at a memorial table in which names of those who died in the disaster have been engraved.
The quake was the first serious natural disaster Li had to deal with after he took office as premier in March 2013. His plane headed to the region just five hours after the first tremors struck.
On Sunday's visit, he inspected new houses, schools, tourism developments and factories. At a branch of Sichuan Rural Credit Cooperative in Longmen township, he said the institute should continue to finance agricultural companies and help develop local businesses.
Li also saw innovative models of smart communities and new energy, all made by the students, during a visit to Lushan No 2 Middle School, which was reconstructed in September. The premier said locals must find new ways to build their homes and make a difference for others.
Longmen, the epicenter of the quake, was the area worst-hit. However, since then it has been developed into a key national tourism destination, with many survivors running restaurants and hotels.
The premier visited two families in the township who he met three years ago. One of them was Gao Quanliang, 47, who told Li about his house, which was rebuilt with government subsidies, as well as the employment and education provided for his family.
"The quake crushed our lives when our house collapsed. But your condolence gave us strength to rebuild our home," Gao's wife, Gao Rongzhen, told the premier.