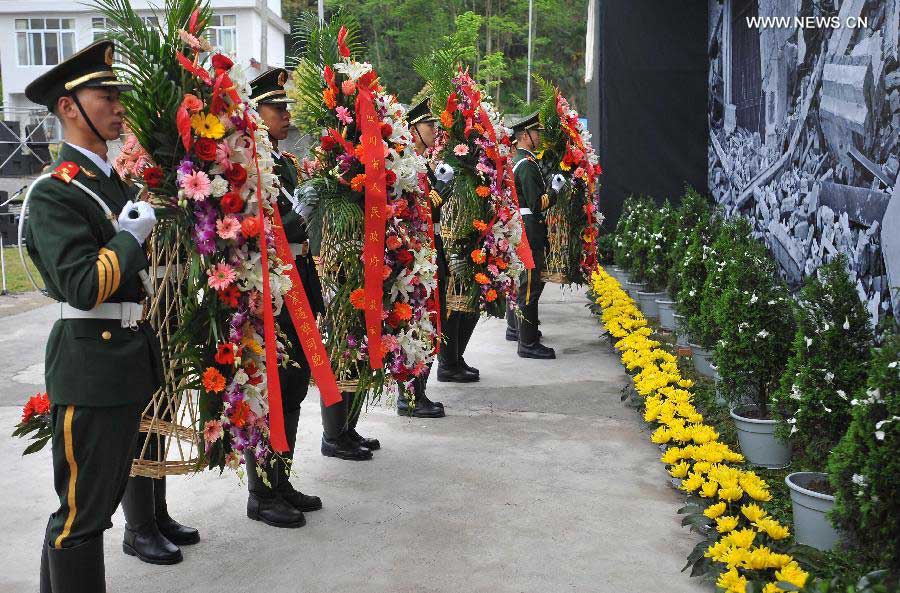 Soldiers present wreaths during a mourning ceremony to mark the first anniversary of the Lushan earthquake at the Longxing central school in Longmen Township of Lushan County, Southwest China's Sichuan Province, April 20, 2014. The 7.0 magnitude earthquake hit Lushan on April 20, 2013, killing 196 people and injuring over 11,000 others. [Photo/Xinhua]
LUSHAN - A memorial service was held Sunday to commemorate the 196 victims of the 7.0-magnitude earthquake that struck Lushan County in the southwestern province of Sichuan a year ago.
Survivors gathered at a high school in Longmen, the worst-hit town, and lowered their heads to show their respects for the decreased in silence as the clock read 8:02 a.m., when the quake occurred.
Honor guards carried flower baskets decorated with white chrysanthemums and laid them down in front of a memorial wall, where photos were hung of the decreased and of rescue efforts in the wake of the earthquake.
Life seems to have moved on in the mountainous county, located some 200 km southwest of the provincial capital Chengdu, where damaged buildings are undergoing fixes "in a proper and cautious manner," according to the local government.
However, the anguish of the families of those who vanished in the quake remains.
At the memorial, sorrows were read through the misty eyes and bitten lips of the mourners as the melody of "Theme of Missing" resounded in the school.
"It's a time to cry, but our tears can't bring the decreased back to life," said Zhu Guoxia, one mourner who held a white flower in her hand.
Zhu lost her eleven-year-old nephew and her house in the quake, but her family of four luckily survived.
As one of 4,482 needy families covered by a government preferential housing plan, the Zhu family moved into a new two-story house in mid-March.
"The disaster has made my family stronger. We still hold hopes for the future," said Zhu.
No rush for reconstruction
One year after the quake, Zhong Mian, the administrative vice governor of Sichuan, said Lushan's reconstruction was on the right track.
According to Zhong, the three-year rehabilitation program, which involves more than 2,700 government-initiated projects, is estimated to cost more than 87.6 billion yuan (14.22 billion U.S. dollars). Its priority is to rebuild homes for survivors.
The earthquake affected 2 million people, leaving more than 100,000 families homeless.
As of Sunday, reconstruction had begun for more than 84 percent of the residential projects and more than 95 percent of schools and medical service buildings, said Zhong.
"All new homes for rural residents and about one-third of those for their urban peers are expected to be built by the end of this year," he said.
In addition, local government has conducted a survey on spots prone to geological disasters after the quake. All 396 projects to treat potential dangers have kicked off.
As organized human efforts go, "caution" is the word.
Compared to the five-year massive reconstruction after the May 12 earthquake in 2008, which also occurred in Sichuan and claimed more than 10,000 lives, the rebuilding of Lushan has taken a more patient and open approach, especially in the far-flung rural areas, said Wei Hong, the provincial governor.
"Speed is not what we pursue. Instead, we have given more attention to making an overall plan based on the needs of people," said Wei.
Sichuan has invited experts from home and abroad to draft plans for each project while soliciting opinions from future users.
For example, on housing reconstruction for rural residents, villagers have set up their own organizations to participate in building their own homes.
Through a "self-construction committee," they are able to be involved in the details, from deciding on a location and a fair price for the raw materials, to supervising construction funds and quality.
"We are really picky sometimes," said Yang Shaoxian, a villager from the Phenix New Village and a quality supervisor of the village's self-construction committee.
Yang spent most of this year wearing a helmet on the construction site of the village housing project.
"This's our home and also our hope. We can't just count on others while staying idle ourselves," said Yang.
A day for love, too
Though they mourn the quake's losses, some locals have chosen to mark their memories of the quake anniversary with happiness, too.
Yang Jinmao tied the knot with his girlfriend, He Jianxi, on Sunday as the two registered at the county's civil affairs bureau.
He, 23, had her legs buried in a collapsed wall as she tried to run out of her home on April 20 last year. Yang saved her and sent her to the hospital.
"As soon as he pulled me out of the debris, the whole wall collapsed. I can't imagine what would have happened had he not been there for me," said the new bride.
"The day is so meaningful for us that we want it to have bright and happy memories, too," she said.
Another couple, Wu Zhe and Yang Mei, held their wedding on Sunday.
Both natives of Lushan, the newlyweds displayed their joy in a special motorcycle wedding.
Wu Zhe, a member of a local vintage motor club, took his wife home on the same vehicle that he drove to carry the injured to the hospital and send relief supplies to the needy during the quake rescue a year ago.
"The quake brought us pain, but we have to move on. Survive and thrive," said the bride Yang Mei.