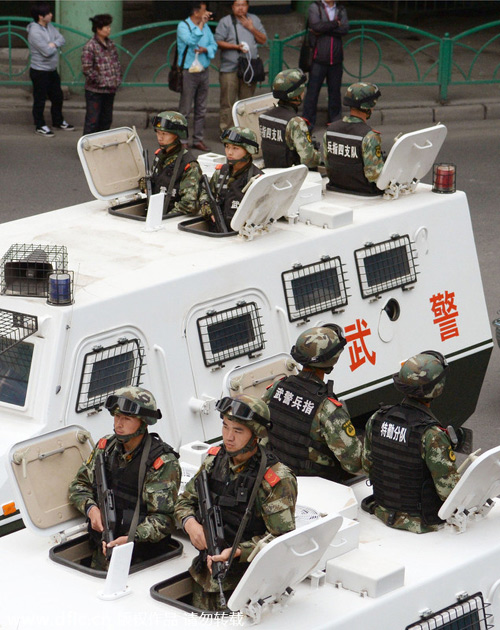 Armored vehicles carrying armed police officers parade in Urumqi in China's northwestern Xinjiang region on May 23, 2014. [Photo/IC]
More than 60 suspects linked to terrorism and religion extremism have been captured in Xinjiang since the northwestern China's autonomous region launched an extensive campaign to stop terrorists last month.
The suspects belonged to nine terrorist-related gangs plus one religious extremist group. All the 10 groups were busted by police thanks to assistance from local residents.
Data showed, since May 23, the public security agencies in Xinjiang Uygur autonomous region have received more than 300 tips leading to the capture of more than 60 suspects accused of making more than 160 blast devices.
Police officers also seized more than 40 kilograms of explosive materials, 2 sites for illegally recording videos and a large number of flags instigating religious extremism.
On Sunday, three knife-wielding men hacked at citizens before they were seized by civilians and policemen in Hotan. The men rushed into a chess and card room on Yingbin Road at around 5:45 pm. The chess players fought back and pressed an alarm bell.
The armed patrol police arrived on the scene 1 minute and 20 second later. With the assistance of citizens, the police subdued three terrorists, leaving two dead and placing one under arrest. Four citizens were hurt during the fight, but their injuries were not life threatening.
In an earlier case in Pishan, three suspected terrorists were stopped and turned in by six villagers when they pretended to have been chasing lost camels. About 12 explosive devices and one machete were found on them. With the assistance of local residents, the police discovered 12 more explosive devices from the same group.
China has launched a one-year nationwide campaign against terrorism since last month with Xinjiang as the focus after a series of violent and deadly attacks by terrorists and religious extremists.
Police in Xinjiang have arrested or tried dozens of suspects in recent weeks for spreading extremist propaganda, harboring banned weapons and other terrorist-related crimes.