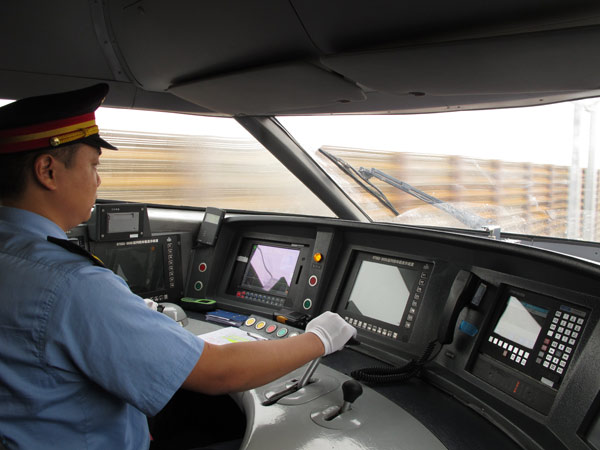 A driver at the controls of the Lanzhou-Xinjiang bullet train during a test run on the high-speed line earlier this month. GAO QIHUI / CHINA DAILY
First bullet train to autonomous region ready to roll, Zhao Lei reports in Urumqi.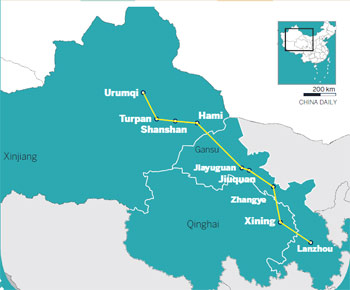 FACT FILE: THE LANZHOU-XINJIANG HIGH-SPEED RAILWAY
Length: 1,776 kilometers
Train model: CRH2-061C bullet train
Designed maximum operational speed: 250 kph
Number of stations: 31
Total investment: 143.5 billion yuan ($23 billion)
Total length of windproof walls: 462 km
Speed of the strongest wind a train will encounter: 60 m per second
Longest windy area on the line: Baili Windy Area: 170 km
Highest temperature along the line: 50 C (in Turpan during summer)
Lowest temperature: -41 C (in Urumqi during winter)
Li Wenqing, deputy head of promotion at the Xinjiang Uygur autonomous region tourism bureau, is eagerly looking forward to the opening of the region's new railway.
"You can see how many tourists the Qinghai-Tibet Railway has carried to Tibet since it became fully operational in 2006," Li said. "There's no doubt that the new line will impart huge momentum to our tourism market."
He was speaking as we rode a CRH2-061C bullet train during a trial run of the autonomous region's first high-speed rail line, during which engineers tested the line's dynamic response, rails, communication systems and aerodynamics.
The Lanzhou-Xinjiang high-speed railway stretches 1,776 kilometers from Lanzhou, the capital of Gansu province, to Urumqi, the capital of Xinjiang, and crosses vast tracts of the Gobi Desert. The total investment was 143.5 billion yuan ($23 billion).
The line, with a designed maximum operational speed of 250 km/h, is expected to begin operations before the end of the year, according to officials, who said it will run parallel to the existing Lanzhou-Xinjiang railway, which was opened in the early 1960s and runs lower-speed trains.
"At present, travelers have to spend a lot of time on the road when they take tours in Xinjiang, leaving less time for sightseeing or other recreational events," Li said. "If they want to save more time, they have no choice but to travel by air, which is convenient but more expensive."
The new high-speed line, which will be priced competitively, will have 31 stations and the journey time between Lanzhou and Urumqi will be cut to eight hours from about 20.
Summer and autumn are the best seasons to visit Xinjiang, which is looking to make tourism one of its economic pillars. The region registered more than 52 million trips last year, a rise of 7 percent from 2013, and the visitors spent around 67.3 billion yuan.
In 2013, about 300,000 people worked in Xinjiang's tourism industry, and an additional 900,000 were employed in related sectors.
The region expects to receive 58.7 million tourists this year, and to earn 83 billion yuan from them, according to the local tourism bureau.
Li said the authorities will help tourist agencies to charter high-speed trains to transport their clients, and ticket prices will be discounted to reduce the cost of group travel.
"We expect that the first travelers to take the new line to Xinjiang will be skiers who will come to enjoy our famous resorts in spring and summer," he said, adding that the rise in visitor numbers will create new jobs in the region.
Those sentiments were echoed by Lai Xin, an official with the Xinjiang Development and Reform Commission. "The surge in tourism will boost labor-intensive sectors such as the services and handicraft industries and generate more jobs," he said.
"For instance, the area of Urumqi where the new railway station will be sited used to be a forgotten part of the city, but now it's becoming a hot spot for real estate and commercial development because residents and businesspeople are expecting a flood of tourists."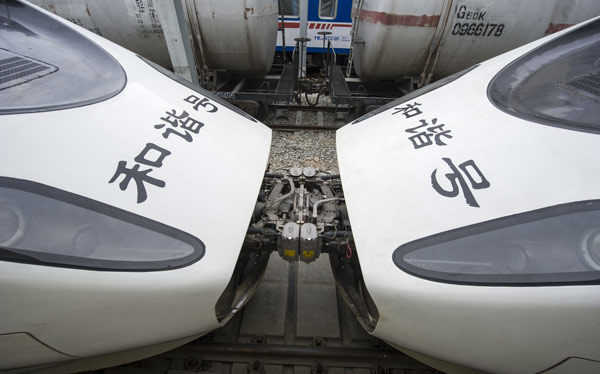 Bullet train carriages undergo linkage tests. [JIANG WENYAO / XINHUA]