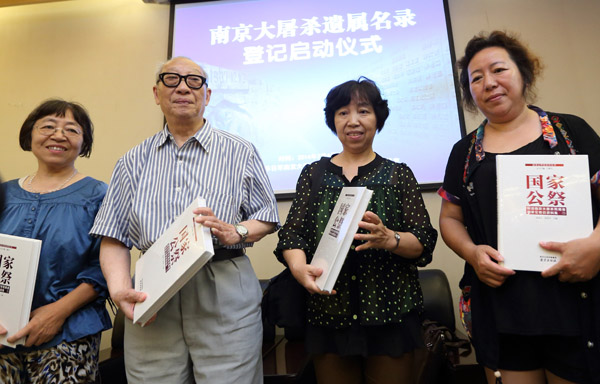 Yu Changxiang (second from left), a Nanjing Massacre survivor, and his family members receive books titled Guo Jia Gong Ji (National Public Memorial) as mementos at a ceremony to mark survivors registration on the massacre in Nanjing, on Sunday. [Photo by Yang Bo/China News Service]
China has launched a national memorial website to honor the Chinese victims of the Nanjing Massacre.
Zhu Chengshan, curator of the Memorial Hall of the Victims in Nanjing Massacre by Japanese Invaders, said the memorial website — www.cngongji.cn — will provide a platform for Internet users to commemorate the victims and to express their wishes for peace.
"The site contains opinions of celebrities and experts on the Nanjing Massacre," Zhu said. "Historical materials and news reports about the massacre can also be found on the website."
Website visitors can honor victims through online functions that allow users to virtually light candles, present flowers and plant trees.
The memorial website is currently provided in three languages — Chinese, Japanese and English — although there will be French, German, Korean and Russian versions by Dec 13.
According to Chinese historical documents, Japanese troops killed more than 300,000 Chinese civilians and soldiers and raped tens of thousands of women after they occupied Nanjing, then the capital of China, on Dec 13, 1937.
"We observed during our research that the relatives of survivors were well-acquainted with the experiences of suffering during that time," said Zhu, "so we decided to find them to find what experiences were etched in their memories".
Zhu said the memorial website's researchers will also attempt to find the relatives of sex slaves and laborers forced to work for Japan as well as the relatives of victims used in Japan's chemical-weapons experiments.
"We hope to find more than 3,000 of these relatives before Dec 13."
Ten years ago, there were more than 1,000 survivors of the Nanjing Massacre still alive, but that number has dwindled to about 100 today.
Xia Shuqin, a massacre survivor, said she always tells her children not to forget history.
"As a survivor of the massacre, I'm responsible for telling people the cruelty of war," said the 85-year-old.
Seven of Xia's family members were killed in the massacre, and she managed to survive it after being stabbed three times. John Rabe, a German businessman well-known in China and who made great efforts to save Chinese civilians from Japanese troops, recorded her experience in his diary.
Xia's granddaughter, 33-year-old Xia Yuan, said her grandmother repeatedly tells her about the massacre. Xia Yuan said that she will tell her 4-year-old son about the tragedy.
"I often bring him to the massacre memorial hall. History must be remembered."
The efforts to find the relatives are part of the first commemoration activity for China's national memorial day. China announced in February that it had designated Dec 13 as the national memorial day for Nanjing Massacre victims.
cangwei@chinadaily.com.cn