Rui Chenggang among latest probed in sweeping crackdown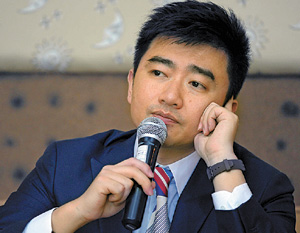 Rui Chenggang, anchor on China Central Television
The number of senior officials facing
corruption
probes in the first half of 2014 has surpassed last year's total, and the crackdown has been marked by investigations of TV station employees and two vice-ministerial-level officials on Saturday.
Rui Chenggang, an anchor on China Central Television's finance and economics channel, and the channel's deputy director-general Li Yong were reportedly detained by prosecutors on Saturday, Caixin Magazine reported.
On June 1, the Supreme People's Procuratorate announced authorities were investigating the channel's director-general Guo Zhenxi and producer Tian Liwu on corruption accusations.
Caixin Magazine said prosecutors detained Rui at his office on Friday evening.
Rui was conspicuously absent from an 8:30 pm news program he was scheduled to co-host with a woman anchor. His microphone was still in front of his seat.
Rumors have said the investigation of Rui is related to Guo's fall. Rui has updated his micro blog every day since - seemingly to inform the public he had not been detained. But the micro blog has not been updated since Friday.
Some of the 37-year-old's comments have made him a controversial figure.
In January 2007, Rui said in his blog that Starbucks should close its shop in the Forbidden City. He believed the store's presence was an affront to traditional culture.
The post generated a lot of attention, and Starbucks removed the shop six months later.
He also sparked controversy during a 2010 G20 meeting's news conference when US President Barack Obama offered to let reporters from the host country, the Republic of Korea, ask a question. When no Korean reporters rose, Rui seized the chance and said: "I'm actually Chinese, but I think I get to represent all of Asia."
Also on Saturday, Han Xiancong, vice-chairman of the Chinese People's Political Consultative Conference Anhui Provincial Committee - the province's top advisory body - was probed for "grave violations of discipline and law", according to a statement by the country's top anti-graft watchdog, the Central Commission for Discipline Inspection of the Communist Party of China.
The commission gave no further details about the investigation in the statement released on its official website.
Han is among 19 officials at the provincial level or above investigated in 2014. Last year, 17 officials of comparable rank were probed.
The 59-year-old has worked in Anhui for 39 years. He assumed his current post in January last year. Han was the provincial government's secretary-general in 2012. From 2008 until that year, he was Party chief of Chuzhou city.
The investigation struck many observers as sudden.
About a week ago, he led an inspection tour of Huainan city to oversee the local government's streamlining of approval procedures, Huainan Daily reported.
Last September, the top anti-graft agency dispatched an inspection team to Anhui province to collect tips on local officials' misbehaviors from whistleblowers.
The inspectors later found some officials had abused their power to seek private gains during their work in real estate, mineral resources, government-funded construction and officials' promotions.
In April, Jiang Shan, then Chuzhou's Party chief and a colleague of Han's, was probed on corruption allegations.
The two officials had worked together from 2009 to 2012, when Jiang was Chuzhou's mayor and Han was its Party chief. Jiang replaced Han as Party chief in 2012 when Han became the provincial government's secretary-general.
Also on Saturday, Zhang Tianxin, a member of the standing committee of Yunnan's provincial CPC committee, was removed from his post for suspected grave violations of discipline and law.
Zhang, former Party chief of Yunnan's capital Kunming, is the 19th senior provincial-level official probed this year.
It is not the first time China's top anti-graft body has announced corruption probes over the weekend. Investigations of at least 12 senior provincial-level officials have been announced on Saturdays or Sundays since November 2012, when the Party elected its new leadership.
Chinese Academy of Governance public administration research professor Wang Yukai said launching corruption investigations on weekends can attract more attention since the public has more free time to read the news.
More senior officials are likely to be investigated this year, since 14 inspection teams dispatched by the anti-graft watchdog finished their work early this month and have collected many whistleblowers' tips, he said.
anbaijie@chinadaily.com.cn