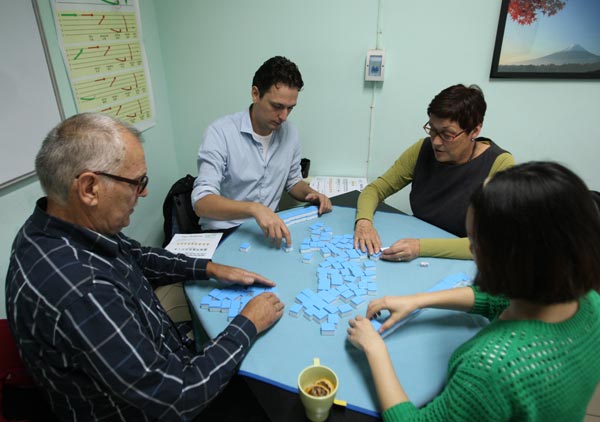 More foreigners are playing mahjong, and they are beating the Chinese at their own game. wang zhuangfei / for china daily 
Technology has been a driving force in promoting the traditional Chinese game internationally. Erik Nilsson reports.
Foreigners are beating Chinese at their own game — mahjong.
Uproar ensued after the highest-scoring Chinese player at this year's European Mahjong Championship came in 30th and the highest-ranking Chinese team finished 37th.
"This result is equal to Brazil not qualifying for the World Cup," media quoted foreign Chinese news site Literature City as saying. (Many pundits pointed out that China didn't qualify for the World Cup.)
Emotions became visceral on social media, and traditional media chimed in. Explanations — some said excuses — were debated. Jetlag. Weak players. Luck of the draw — or lack thereof. Any and all of these may be true.
But Yao Xiaolei, assistant secretary-general of the game's Beijing-based global governing body, the World Mahjong Organization, points to a certainty fewer dispute. "Although the results were not good, we should look at the very quick development of the European (tournament) mahjong in recent years. It showed Chinese mahjong's promotion has been rewarded," media quoted Yao as saying.
The game invented in China roughly two millennia ago is gaining ground globally in the new millennium. It arguably ranks among the country's top cultural exports.
"Mahjong is increasing in popularity in Europe," says Tina Christensen, president of the European Mahjong Championship's organizer, the European Mahjong Association.
"In Europe, mahjong (events are) organized in several countries with many tournaments and many demonstrations at game and culture festivals. There is some luck involved in mahjong. But China didn't send their strongest player to recent tournaments in Europe," says Christensen, who's also the World Mahjong Organization's deputy secretary-general.
Australian Mahjong League managing director Freddy Fajardo asserts a home-turf disadvantage. "It's a combination of learning the tournament rules, scoring, formats and practice," he says. "Mahjong is a game of skill that does also require a little bit of luck."
More "mahjong cruises" are setting sail from Western ports, and overseas national associations, tournaments and leagues are proliferating.
European tournaments have surged from two when the European Mahjong Association was established in 2005 to 40 last year, Christensen says. The continent hosts about 700 tournament players, she says.
Mah Jongg: The Art of the Game co-author Ann M. Israel points to US surveys that suggest the country hosts between 500,000 and 800,000 players of various levels. "Mahjong is popular with literally millions of participants in all the Asian countries," she says.