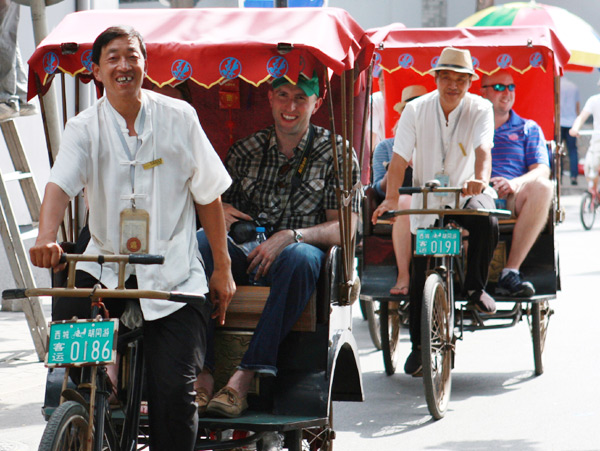 Taking rickshaws to tour Beijing's Shichahai area, famous for its hutong and bars, has long been a popular attraction among foreign tourists. Wang Zhuangfei / China Daily

Successful applicants, Chinese or foreign, will have to show their determination to pull ahead of rivals, have street sense and prove their stamina - this is not a job for the faint-hearted.
The biggest rickshaw company in Beijing's tourist attraction Shichahai, is hiring foreign and local college graduates. Ten foreigners, mostly from English-speaking countries, have submitted applications, company spokeswoman Ling Min said.
But the work entails more than physical ability. Knowledge of local culture and history is also required for a position on the elite Houhai Eight.
"The Houhai Eight, who represent the highest standards in Shichahai hutong tours, are aging. Their stories and understanding of the Shichahai culture need to be passed down to the next generation," the company said on its recruitment website.
Shichahai Guyunfengqing Hutong Culture Development Co, which owns almost a third of the 300 rickshaws operating in the area, including the Houhai Eight, is trying to attract college graduates who are fluent in English. The monthly base salary is 5,000 yuan ($800) plus commissions, on top of free room and board, said the company's recruitment manager Cheng Zhu.
So far, the company has received more than 80 applications and interviews are set to start in August, Cheng said.
"About 60 percent of the applicants have a college degree," Cheng said. "We'll wait for another 100 or 200 resumes before starting interviews."
Cheng has a special publicity plan for the final interviews with celebrities, folklore experts, emcees and parents judging the job seekers, just like the popular job-hunting TV show Just For You.
But rickshaw pulling is demanding.
Leaning on his seasoned, three-wheeled rickshaw under its traditional scarlet, collapsible hood, Li Yongfu pulled cigarette from his shirt pocket and lit it.
"Another baiban (whiteboard) day," said Li as he exhaled into the hot, humid Beijing summer air. The 58-year-old used the common term in his trade for a day without customers.