Online retailers are being urged by authorities and consumer rights groups to do a better job of implementing the seven-day cooling-off period in the new consumer rights law amid a rising number of disputes with merchants.
The provision of a cooling-off period, which enables consumers to return goods purchased online for refunds without having to give a specific reason, has given rise to a large number of disputes between buyers and business owners. Industry and commerce authorities nationwide received 741 consumer complaints arising from such disputes in the first half of the year, according to the State Administration for Industry and Commerce.
"The large number of consumer complaints arises from the failure of business owners to honor the new consumer rights law," said Yang Hongcan, head of the consumer rights protection department of the administration, during a meeting with the country's major online retailers on Thursday.
Yang said that owners who conduct retail business online should respect the cooling-off period, as required by the law, and refrain from enlarging the categories of items that cannot be returned.
Under a revision of the Law on the Protection of Consumer Rights and Interests, people can return goods up to seven days after they receive them following a purchase online, by TV or by phone, without having to give a specific reason.
The revised law also lists four types of merchandise that cannot be returned - customized products, fresh and perishable products, digital products such as software and online downloadable goods, and newspapers and magazines .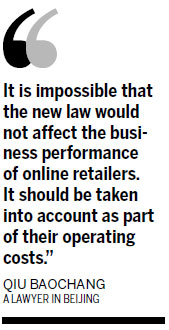 According to the industry and commerce authority, some online business owners fail to notify consumers in advance about products that cannot be returned. Some set high standards for returns, requiring that the condition of a returned product not affect its future sale to another customer.
Chang Yu, secretary-general of the China Consumer's Association, said some business owners are still unfamiliar with the terms of the new law, and some deliberately misinterpret it, which partially accounts for the large number of disputes.
Meanwhile, some online retailers and online marketplaces have insisted that the cooling-off period should not apply to certain categories of products, some of which are not listed in the new law, such as food and underwear. Some cited decreased value of returned products.
"If the value of the products decreases during the cooling-off period, it would be unfair to the business owners," said Yu Siying, associate general counsel with the Legal Department of Alibaba Group.
Qiu Baochang, a lawyer in Beijing, disagrees. "It is impossible that the new law would not affect the business performance of online retailers. It should be taken into account as part of their operating costs," he said.
xuwei@chinadaily.com.cn