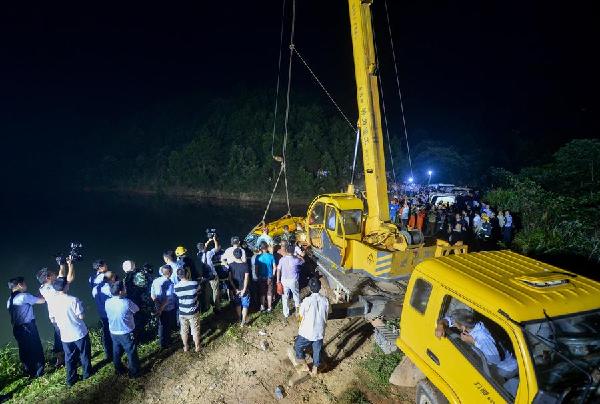 Rescuers try to get a minivan out of water by using a crane in Changsha, Hunan province, July 11, 2014. All 11 people, including eight kindergarten children, died after the minivan fell into a pond Thursday. [Photo/Xinhua]
CHANGSHA - Eleven people, including eight kindergartners, died when an overloaded minivan used as a school bus fell into a pond in central China's Hunan Province on Thursday, local authorities said on Friday.
The accident occurred at about 5 p.m. Thursday in Ganzi Village near Changsha, capital of Hunan, when the minivan was carrying the children home from Lelewang Kindergarten in the city of Xiangtan, adjacent to Changsha, said Wang Kemin, head of the provincial education department.
Besides the children, the driver and two teachers, aged 18 and 51, were also killed, Wang said.
An initial investigation has suggested overloading and use of an unauthorized route as two major causes of the accident, said Ge Jianzhong, deputy director of Hunan Provincial Education Department.
The minivan, with a designed capacity of eight, left the school with fifteen people aboard. Four children got off at previous stops. The accident occurred on a section of the road which was not part of the authorized route and was not immediately discovered as the scene is remote and sparsely populated.
The driver, who only took up the job a few days before, was not familiar with the route and lacked training, said Li Youzhi, vice governor of Hunan.
The minivan was finally hauled out of the pond at around 3 a.m. Friday, with the bodies of eight children and the driver inside. Those of the two teachers were found about an hour later.
"It is common for the bus to be overloaded," the father of one of the children aboard told Xinhua.
Established in 2005, the private kindergarten has a roll of 180 children and 12 teachers. Classes have been suspended.
Hunan will overhaul all school buses and examine the documentation of all drivers to avoid similar tragedies.