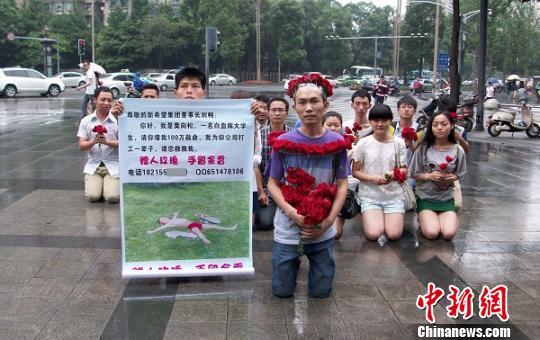 A university student suffering from leukemia decorated himself with roses and asked a local billionaire for a loan of one million yuan ($160,100) to fund his treatment, in Southwest China on Monday, China News Service reported.
Mo Xiangsong, 24, and 14 classmates held roses and knelt down in front of the New Hope Building in Chengdu, Sichuan province. One of the students held up a poster saying they were seeking one million yuan from Liu Chang, chairman of the New Hope Group.
The poster also said: "Loan me one million yuan, and I will pay you back by working all my life."
Mo was adopted as a baby following his mother's suicide when he was just a few months old and his father was treated for severe mental issues when he was about one year old. His adoptive parents cannot afford further treatment for him after spending more than 100,000 yuan.
Mo – who suspended his university studies due to his illness - became an Internet sensation last week when he sunbathed on a public lawn in Chengdu wearing only his underwear – in a bid to kill his cancer cells.